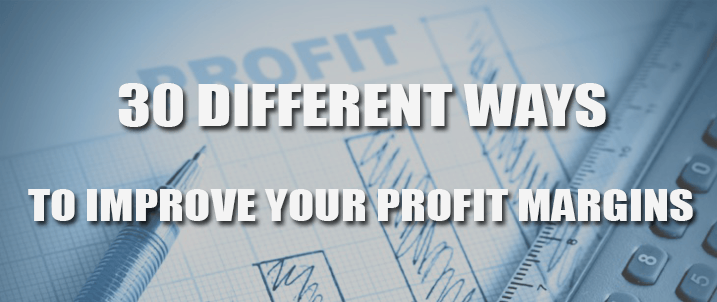 All that is important is "Profit??? no matter you are running a large well establish business or owner of a small cottage industry you will focus one fact of increasing your revenue. In today's topic, we will be discussing 30 simple ways to improve your profit margins. This topic will cover all business-related problems that with the solution to eliminate your daily business-related problems. This query has been searched so recursively that this read will definitely fit your concerns.
Increase Pricing/Rates
Increasing price is the easiest way for many small companies and business. Most businesses set their price above than standard price because of the facts that they are producing more quality. In the field of software development, increasing price means increasing resources because this is not an automated process. Many IT related companies have made significance increase in their prices because they are adding more charm to their furnish products. Just increasing price is not a straightaway process. It includes the average cost of the product and comparing it with extra services that you are providing and no one or fewer are offering.
Refurbishing Process
Resigning workflows and streaming process can produce greater efficiency resulting in generating more profit. Cutting steps that ordinary and other old worn out techniques should be eliminated. In software development companies it can be seen that if unnecessary processes are going simultaneously it reduces the efficiency and timely delivery is not possible. There are some standard processes SDLC that has well-defined software development processes that confirm successful deliverables eliminating unnecessary processes.
Eliminating What's Not Necessary
It can be seen that most companies follow unnecessary work traditions that only has cost but no output. In most of the software development companies, there are project modules that are already been decided at the very beginning. Proper requirement gathering is very necessary in such scenario in order to avoid what's not necessary.
Coordinate With Team Members
Coordinating with team members is the key to success. Demonstrating the logical verdicts graphically not only reduces problems but also engage manpower efficiently generating good revenue. Team members are assets of the project and so of the company, involving them in every project activity brings innovation and new ideas on the floor. Always value employee's opinion.
Daily Progress Report
Daily progress report generated can make things traceable. Software houses have made this trend by embedding customize the software in order to monitor the daily progress. Software development activities are very critical as this involves both client and team leader side by side. So continuous client involvement and tracking individual's efforts according is necessary to avoid inconveniences in future and hence increases productivity.
Look Into Different Ways To Value Workspace
There's nothing like a final goal in business in real terms. Always see what's better you can do to achieve long terms plan efficiently. It's like if you are making any software products it's not the end of the world remember, the sky is the limit. Look into the depth to amidst every future obstacle. Optimize your every process in order to get best feasible solutions.
Deal In Dollar Currency
The dollar is the currency that keeps on fluctuating. Try to deal your clients in dollars as this currency mostly goes up. This will give you leverage by providing a better outcome in the end.
Cost Of Attrition
Whatever cost you charge your customer is asserted at both ends. Always try to balance your expense and amount you are getting from your projects. Talking in the perspective of software development company it is mostly project-based work where clients are being charged according to their requirements of the project. Cost can be maintained by keeping the balance between the cost and the profit margin.
Feed Winners & Starve losers
In a team of potential people, there are always weak knots that can cause hindrance in achieving your final goal. Taking things into account always cheer your winning team by giving them leverage in the forms of leaves, bonuses. Inaugurate new strategies like "employee of the month???, an employee of the year???, and "employee of the month???. Contrary to this employee that doesn't put their full in-depth involvement should be starved professionally. In this way, everyone would get that courage to be the part of the progressive campaign.
Increase Leads
No matter what business you have and in what niche you are dealing with you always need leads to growing try to enhance and widen your horizon to increase your success rate. Always focus on increasing your company potential by giving your workforce a better platform to provide you good results. In software development domain you never know who exactly your client is because he can be anyone in your circle who needs a customized software from his impaired business to run his daily operations.
Renegotiation
Never settle for less. This is one of the basic fundamental to grow. Most of the time it is seen that funding to business are provided by landlords so being manager tell people who finance about the worth of the time and resources you are utilizing. Software services are the most expensive services because it consumes your intellectual knowledge along with beyond committed job hours.
Focus on Your Potentials, Channels and Niches
See the most powerful way to improve your product and services like social media platforms.
Make Premium Groups
Always fix some groups for delicate work. For example, you are running 4 projects at the same time they worth for x dollars and you have deadlines meeting, at the same time you get some projects that are demanding furnished products in few days generating 4x revenue at the end. So, in this case, delicate team members should be fixed for this so chances of improvement will be more in terms of better services and professionalism.
Sale What Makes Money
For sale, everything is not important but to sale what's important is necessary. Companies only grow if they have multiple products for clients. If you are stick to just fewer products in queue definitely you will be pushed back by your competitors and you will lose your potential customers. In software development companies Using Web Development 100 latest tools 2018 can improve your outcomes as well as can bring variety and good coding practices.
Sell Your Products Like They Have Worth
Never assume your products have little or no significance. Always maintain your integrity in terms of selling price. Negotiation should not be at the point where a customer asks you to sell their product at the same price as you have bought it. Always keep samples to show in the market. If your business is software related keep dummies websites on domains to show the capability of your company and business.
Production in Bulk
Always work for your niche. Never give a single chance to your customers to complain about your stock and availability of a product.
Improvement In Services
Always improve your services so you can convince your customers to buy products again. In case you are running a software development company make sure you deploy error-free software so you can get your client back whenever they develop new software. After sale services bring improvement in your business as this prove continuous loop for profit.
Make Buying Easy
It is seen that most of the companies have very hard and fast rule to purchase items. For the people who have little or no knowledge of computer find it really hard to purchase products so they move to other sites. E-marketing and E-purchase have made life significantly easy but on the other hand, most of the online mechanism of buying is really hard to understand thus proving a problem in buying.
Increase Your Cost With Quality
Never stay same in the market. Fluctuation in your market should be there to engage your customer. If you are good at xyz thing then make sure your cost is good. Make sure that your cost is not more than or less than your investment. Try to teach people about your significance by giving them the quality product in a cost-effective manner.
Be Consistent
Consistency is what matters the most. In business, if you are not consistency then you will lose your place as there are almost 1000 brands for against one service. So in order to compete then you need to put your constant efforts.
Do Not Stock Much
If you will adding up to your stock then this will increase your inventory cost so in order to avoid such scenario always check what your user needs. See through the bottleneck of every problem before it can cause a problem for future. Do not manufacture more than requirement otherwise you will waste your resources.
Buy Standard Products And Tools
Where we consider manpower as assert, machines, also serves the same purpose. In software development companies, this matters a lot that your types of machinery are up-to-date, windows are updates, software is properly working as such products are time bounded and it's very necessary that you develop standard products that can work on all machines.
Beware Of The Hidden Cost
Do not put leverage on anyone and try to keep your work life and family life separately. Do not involve both on the same page. Quote price for efforts you are taking from your workforce. While making fix commitments to your clients think what proportion you will give to your workforce, what percentage you are getting as a bonus, what can be the hidden cost of your project and all other things that may ask for share during deliverables.
Develop Work Ethics
Do not just rush in a straight line. Always try to follow some guidelines set by the company. Do not tolerate things that are good for the company and can cause hindrance in achieving your goals. Start with very small setup and be very strict about your rules. Manage to come before your employees do. Do not just involve too much frustration in one go. Slightly introduce some work ethics and manage people to follow them.
Training Programs
Learning never stops. Keep on introducing your workforce with new trends. Look into small example if you are running an IT firm and you are updating your employees with new trends and software development plans than you will surely keep on working on same worn out techniques that are no more in use. Establish trends of learning in your premises and allow every individual to practice new things so, for the collective interest of the company.
Work In Hierarchy
Always try to maintain your work hierarchy. Do not account for every happening in your workspace yourself rather keep a balanced hierarchy where people report through proper channel in case they face any problem.
Marketing
According to the today's business strategies, it is very necessary to market your product before, during and after its launch. There are many marketing ways being introduced nowadays to boost up sales. Always bring charm to things whatever in whatever you do. Do not just make the product but tell its worth and importance.
Social Media Involvement
Social Media is one of the effective ways to engage your customer. Even if you get your disabled instagram account back after decades you see your home popping up with different business promotion and releases. Social Media is one if the platform where you can do marketing of your intellectual ideas, tangible and non-tangible product's business very easily, hence resulting in better outcomes.
Welcome Criticism
If you get happy with constructive criticism then you should welcome destructive criticism as well. Consider criticism as the part of your growth that is necessary. Taking this factor in software development Companies you will see that your product can either be being appreciated or will get huge criticism as it will be used by different age groups. Few of them will criticism on its interface or even idea of developing such products. So if you will consider it as a part of your growth you will always desire for destructive criticism for more health challenges.
Check Your Competitors
Always check what your competitors are doing. Keep noticing market value, requirements and demands of the customer. Always plan for a step ahead of your competitors. Do not just produce goods but the quality of services.
Contact Us