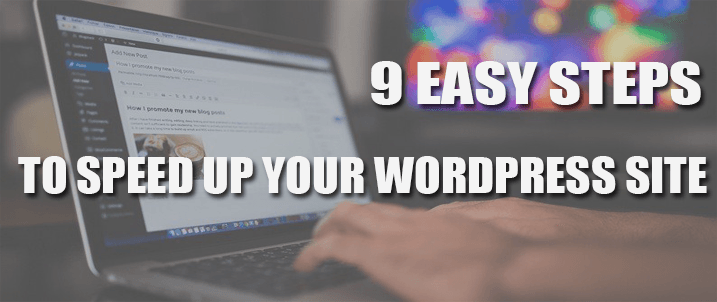 Studies have shown that most of the times people do not even show patience to average response time to websites and redirect websites or open other hyperlinks. Approximately 25% of the people abandon applications or web pages if they take more than 4 seconds to respond back. This is kind of very harsh penalty to websites that strive really hard on every possible issue to become favorites among competitors. Here come the best techniques to reduce response and loading time of websites. This means that you can fix problems that can keep your website away from disappointing them any further.
Taking account of why we always focus on improving our WordPress websites most of the times is because 90 percent of websites are being developed on wordpress because of user-friendliness and its flexibility. In today's article, we will discuss 9 easy steps to speed up your wordpress site. Before you start testing your wordpress site make sure that you have admin rights to do that. Here are the steps to guide you well.
Step 1 – Testing Your WordPress Speed
Before you embark your WordPress optimization, keep in your mind where your standards are and where exactly website stands. Testing your site is very necessary and merely the first thing you need to do to check optimal speed your website has. There are many official and non-official tools to check your website's performance. It gives your website improved state to work on it for further. Some of the most famous websites that can give you best optimum speed for your website is GTmetrix and Pingdom.
Step 2 – Removing Unnecessary Themes and Plugins
It is very common to add new advanced features to your site to keep it updated and relevant. On WordPress site this can be done using advanced plugins and moderated themes. In case WordPress websites most of the developer admits that there are many plugins that are being installed even when they are least needed, so this can create a bad impression to clients and people having the urge to visit your website for long. As the time passes you will realize this fact that your website will be filled with so many unnecessary plugins and themes that have not been used for long and been embedded for no reason. So in order to improve your website performance, you need to keep this factor in your mind that too many plugins can reduce the speed of your website.
An excessive amount of tools or plugins especially obsolete ones can dramatically reduce overall performance. As per generic observation, it is noticed that if the website is stuffed with unnecessary plugins it not only increase response time but also effects the performance of the other useful plugins. The best tip to keep your website away from such things is to maintain the checklist and enlist functionalities that can you may need, do not need or find effective for your website. Try to introduce little functionality on your website in the beginning by keeping your functionality limited to the constraint of speed and least response time.
Make sure that you check for uninstalling the unnecessary things on your website so it can serve users at its best.
Step 3 – Reduce CSS, HTML and JavaScript
Minification is one of the best technique to enhance your WordPress website's performance. It not only reduces the size of the code but also makes it reusable for pages in abundance. Reducing extra spaces, characters and comments from files can remove filth and improve the functionality of the website.
Programming languages are always executed line by line. This means that if the code is filled with unnecessary space and it's not efficient enough to get executed in time this means that it will ultimately increase response time. Try to keep your line of code as simple as possible by keeping simple functionality in it. Plugins that can be used to minimize the plugins and code is Auto optimize and W3 Total Cache.
Step 4 – Enabling Gzip Compression
In addition to reducing lines of code, you can also add more benefit to your website by doing Compression known as Gzip compression. What is actually does is whenever someone visits your website, the resources (files) from the server side are fetched. Larger the resources are the more it takes time to load at the client end. So enabling Gzip compression, one can substantially decrease the overall size of these resources results in speeding up your WordPress loading pages.
Check whether your site has Gzip compression enabled or not using checkgzipcompression.com.Else edit htacess file for this.
Step 5 – Optimizing Images
Due to their static nature, images might seem rather innocent. But don't be fooled by this – high-res images can cause a bandwidth bottleneck if you're not paying attention to their size. This doesn't necessarily mean that you should abandon high-fidelity images in favor of smaller, blurrier snaps.
Due to static nature of the images, they might seem rather innocent but seriously don't get fooled by this as high-resolution images as they consume more bandwidth or actually more than you think. There are multiple methods to optimize images on websites. WordPress plugins like Smush Image Compressions allows many convenient ways for achieving and enhancing websites without asking much as a compromise in return. These tools are friendly enough to keep their originality as well reducing its size from the original.
Step 6 – Splitting Long Content into Pages
 Another buzzword that has been encountered is using the web ways to optimize the WordPress website is pagination. This simply refers to dividing each of the pages into small pieces or chunks. Spread these chunks on several different pages and display them this separately. Pagination is the typical technique used in comments corner or section of the website where there are thousands of comments just jams up the bandwidth. You can easily get this pagination done on comments in WordPress by simply navigating to settings section and then to the discussion. Doing this can made you check or determine the maximum of traffic that is coming in form of users on your website or per page of the website. This balanced approach is recommended but avoid using too much of comments section on every single page of the website until it is not desirable as this takes user attention away from the product credibility on fake comments may be.
In addition to the comments section, pagination can also help in splitting page or post into two different web pages. This can be a useful technique for the long post as the users are likely to be excited at first sight. Pagination on several posts can also enable by <!-nextpage-> into text version of the post. WordPress automatically detect this and enables it for you.
Step 7 – Upgrading PHP Version to Speed Up WordPress
This is one of the techniques that fewer of people know. Nevertheless, it is among the most effective ones. Switching it from PHP 5 to PHP 7 on your own seems daunting but the actual benefits when you practically switch them. WordPress performance not only gets enhanced by the factor of 2 on PHP 7 comparing it to PHP 5.The former process takes 112% more request per second than that of latter. Moreover, WordPress can also benefit from overall PHP 7's optimization for memory, resulting in 30 to 50% performance boost. PHP 7 is set as the default version of PHP on all shared hosting plans. Taking websites this way can offer 5X optimized speed. One of the most crucial thing that should be kept in mind is about backward compatibility factor of PHP 7.This doing this switching there can be certain plugins or themes that can be preferable that can run fine on PHP 5.To check this whether this site is facilitating PHP 5's plugins use PHP Compatibility checker for WordPress.
Step 8 – Use Cache Plugin
Caching is a well-known mechanism to reduce the burdens on web servers. Basically, caching enables storing information that is being used often on both client's system including browser and memory so that it can browser doesn't have to fetch information from the server again and again. Basically Caching is a basic and very effective technique that enhances the WordPress site performing by delivering the desired information of the users from local memory rather than from servers. This helps in increasing website's performance by delivering the best and optimum solution to user's need.
There are tons of decorated plugins that are available for WordPress that allows the variety of caching, including WP-Rocket and W3 Total Cache.
Step 9 – Use CDN
With super-fast internet speed, this sometimes can make you forget about all ultimate worries regarding response time. Web pages basically reside on both physical hardware and located far from your location. Most of the times, such distance is so large that it can adversely affect the total response time of website or web pages. Most the sites tackle such issues through Content Delivery Network or CDN.
What basically happens when you enable CDN on your website that the client browser no longer has to get retrieve from every single page available on the web server? Instead of this, there are some static pages that are forced to reside on data centers that are close to the client's location. This can reduce the total number of request coming simultaneously from client side handles by web server constantly improving the WordPress performance. A flurry option for choosing CDN is Cloudflare and MaxCDN.
Many WordPress developers do not bother much about keeping such things under consideration rather they just focus on developing websites without giving much value to standards. At Coding Pixel, these wordpress sites are primarily built by keeping every single concern of client ahead but delivering the website in its best form. Issues are being eliminated at every single step and each website is developed according to the SDLC (software development lifecycle to give you the best possible results).
Contact Us