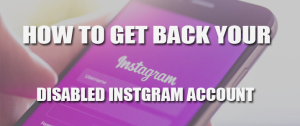 How to deactivate my Instagram account? Is what a very recursive query we see in Google and other search engine but what about if one day you wake up and see your account just gone without any core reason. If you see yourself a victim of the same situation definitely these following tips will make a big difference to you being your solution.
Here are some of the amazing tips that will help you to retrieve your disabled Instagram account back and specifically will answer your "How to Get Back Your Disabled Instagram Account??? query.
Tip#1
If you see your Instagram account disabled you will see a message informing you when you try to login to your account. Instagram accounts that do not approach Community Guidelines and terms and conditions may get disabled without any warning. So the tip here just follows Instagram communities and guidelines before you post anything.
Tip#2
If you think that you mistakenly disabled your account and interested in making appeal to authorities then you can get it done by completing on screen instructions.
Tip#3
If you don't see any message telling you about you disabled your account then maybe you will experience a login issue. If your account was deleted by someone else having your password then honestly there's no way to restore it, as you made it easy for someone to guess your password and you ignored security threats. The only way is to create a new account.
Tip#4
If your account gets disabled for any other system failure, you can directly email Instagram community to get to know the particular reason. The most common reason found for this is because of the business purpose profiles as people are concerned about How to Start a Mobile App Development Business with Little Investment and marketing their business in order to grow.
Possibilities of Disabled Account:
There can be certain reasons for your account being in the disabled state. This includes many reasons:
Deactivation
Most common reason for the account being in disabled state is due to deactivation. This takes your account into the hibernation state and it becomes temporarily unavailable to users. They are unable to post, view and edit their account privacy.
Tip#1: Put it on temporary deactivation mode by clicking on temporary deactivation. Once after a short period of time, you can again login into your application by putting same username and password.
Synchronization
It can be seen that Instagram is mostly synced with facebook application. When a user disables facebook account it mostly creates hurdle in logging into the Instagram account.
Tip#2: Always create separate login and password for your Instagram and do remember them.
Hacking
Someone intruding into your personal space through dishonest means without letting you know can also disable your account.
Tip#3: This can be avoided by keeping your password well encrypted. This can reduce your headache by letter as strong password reduces chances of guessing it right very less.
Forget Your Password
The most common reason for the account being disabled is forgetting your password or username.
 Tip#4: The easiest way to retrieve your password is to sync with your Gmail account. It can then directly send your new password link for Instagram there.
Instagram has improved itself comparing it with past years as it became one of the most top social media application for influencers. Since users do get some of the login issues, for that Instagram is working on more strong security algorithms to give better user experience.
Contact Us