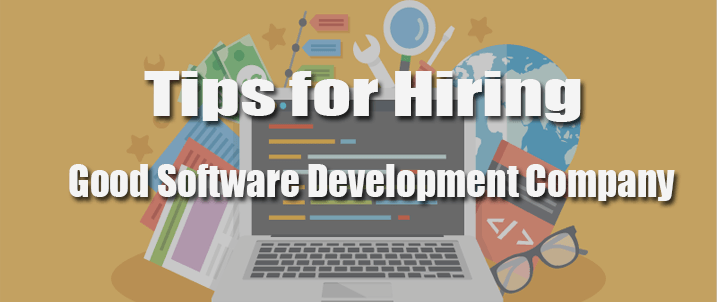 Nowadays, everything that involved a large number of physical efforts in past days has its virtual presentation. Every simple business you see today has its own software in order to make its operations work efficiently. No matter what kind virtual solution you are looking for your company, you will always need the best assistance to manage your business-related problems. Developing software and deploying is not just a one-day effort. This software you develop for your company has long-term significance as they are asserted to the company for later years.
It is obvious you will not rely on just Software Development Company for this but the best resource. Deciding which company is appropriate and which company is not is always a question when business meetings for business requirements are organized. Identifying which company should be hired depends upon the kind of software you want to develop. Here are some of the characteristics and tips you will need while Hiring a Good Software Development Company.
Identify Your Needs
Needs vary company to company as per business nature. Providing the quality of software depends upon the type and scope of requirements. Needs here include whether you want to develop the mobile or web-based application.
Choosing a Company
Choosing a company should not be an abrupt decision rather it should be selected with complete research. Reviews of company matter a lot as it tells about company's credibility. Developing a software solution once and this is the only thing we do, is not true but timely maintenance is needed too. That means it is not one-time relation with a company you hired. So choosing a right company is necessary just like your business is.
Categorize Your Needs
Categorizing your needs in long term and short terms is a necessary thing while handing over your needs to Software Development Company. While making your requirements in a form of document one must be very much clear about the business mega goals in future because you will need to advance your software as per those goals. Always keep one thing under consideration that a good software company can either give you a relief or worries on long-term bases.
So you need to plan bit by bit in order to avoid creeping requirements. Good software companies always keep customer's concerns before their own. They always welcome changes and deliver software in segments.
Check for Company's Profile
While hiring Software Development Company you should check for company's consistency and time period it served in the field. Always check for reviews and deployment rate per year. The profile also includes professional that are working along with their experience in the similar domain.
Now the question is what will make you sure about whether the software you developed is of quality or not. So here is the list of attributes you must keep under consideration. This includes:
Make sure your software solution is scalable. It has less response time with complete user guide.
The software is maintainable when it is bug-free. It is resistance to user load.
In future, if you think to move your software to some different platform, then it should have adaptive nature. It should withstand with every latest technology.
Software should have a low maintenance cost and with least bugs. Make sure it works in modules using SDLC certified lifecycle.
Always ponder every small issue in order to avoid every inconvenience in future. Making just software is not an achievement but a bug-free software is. So choosing the right company can only help you with that.
Contact Us