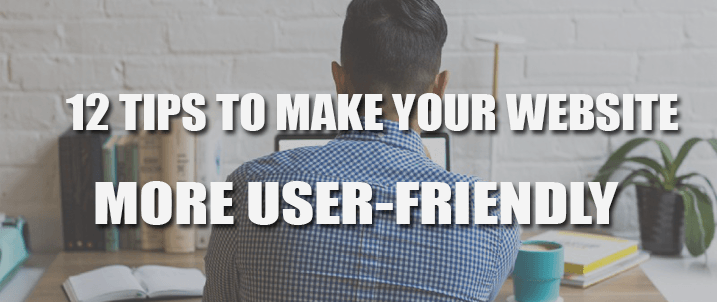 A good website proves to assert to you and your business if it has properly aligned elements, design segments, navigations and all other functionalities. Now websites need to be intuitive, in order to engage people in your business. Keeping the fact in mind that the only way to engage people in your business is to provide the ease of using your website and web pages that's what we call user-friendliness. The only way to boost up your sales is to give people an opportunity to generate business for you and the only way to achieve this goal is to provide them easy ways to use your services efficiently.
Being the part of super-fast and advance digital era, we all know that creating a professional platform for websites is a big issue that cannot be ignored. The real question behind this is how we can make our websites popular as well as user-friendly so they can be used well and follow standards. In today's article, we will be discussing 12 tips to make your website more user-friendly. Telling you the fact that adding glitters to your website is not just enough but creating and managing your website in such a way that it convenient for all age groups to get their concerns full filled. Keeping these tips handy in mind here are some of the useful tips that are really responsive and user-friendly to provide you and your user seamless experience.
1. Concise Your Content
Content is one of the most critical and convincing factors to your users. It can either make user stick around your website or can print a bad impression of your product or services to them. This is the stepping stone to making your web pages or sites more user-friendly.
Here, are the ways to improve your content strategy enhancing your user experience.
✓ Make your content easy to scan/find– The internet and search engine follows a simple strategy that it skims through the content instead of reading it all. Keeping the paragraphs simple and meaningful without much focus on the content length can for sure bring business to you. Formatting your website content like newspaper style where heading says much of all. Correct use of subheadings, main heading and prioritizing the content in the form of bullets helps the user to check the main idea behind your services and type of benefits you can provide them. This improves user readability and quickly helps the user to read main points if data is available in chunks.
✓ Contrasting color scheme- In most of the cases developers do not take care of the color contrast rather they put their energies in promoting business. Finding the right contrast between the background and the website main page is most important tasks to do. Lack of proper color contrast not only create hindrance in user interest but also makes your color scheme least significant. Poor contrast can complicate text readability. Avoid using the black background and too sharp colors that can bring bad impression to users concerns.
✓ White space is always a good idea- White spacing is very efficient and helpful technique for highlighting small elements making pages content more prominent and clear. Giving content some space to breathe out is very necessary as it supports user readability. Crowded designs and stuffing page with too much of stuff can no doubt is less favored technique. White spacing also keeps your website user focused on the particulars and page essentials. According to the web trends and standard of designs leaving plenty of white spots is vital and makes design clean and less cluttered in one place.
✓ Readable font – Although elaborated impressions and designs may appear enticing, sing the recognizable and easy font is for sure a good decision. Keep one thing straight in your mind that user does not attract without complexity which most of the developers think rather using different fonts on one single page create problems in text readability. The most widely known font in San serif which is accepted and proved as the user-friendly and less scannable. Highlight and bold the important points you think your website has and stand them out.
✓ Eliminate broken links – Broken links cause confusions and seems unprofessional. They also bring bad impression to users and enhance credibility to users. Make sure that you test every single link and buttons being used on the page before you launch and make it visible on search engine. Twice or thrice check if needed and always try to get another outsider to check for the impaired or broken links.It is also advisable that monitory your website is one the basic factor that forms the strong connection between you and your users as it helps every individual to redirect to some other page related to their concerns.
2. Improve Your Navigation
The effective ways to bring not just traffic but business to your website is simplified navigation. Having a clear approach of clutter-navigation is the best help you can do to make your website user-friendly for visitors. Always try to limit the number of menu items and unnecessary bars with less or no functionalities. Not complicating the things along with configuring them equally on every single page can greatly facilitate your website browsing.
This can be done through:
✓ Clean your Layout First
Confusing your layout and stuffing it with too much of irrelevant stuff can lose your customers. Ensure your navigation clear and simple. You can highlight your important segments and about us pages to make them more visible. If you need multiple layers to separate your different categories you can get it done by organizing your page elements in such a way that user finds it easy to navigate within web pages.
✓ The sitemap does the trick: Sitemap is one of the easiest ways of engaging your concerned people at the right place in terms of search engines and it also helps users to find specific web pages. Giving users a better orientation in content and makes website friendlier from the eyes of the users.
✓ Avoid abbreviations and acronyms- Avoid short abbreviations and acronyms so that it cannot mess with user understanding. Do not use too many short forms of sentences and other proper nouns until or unless they are not obvious. Applying more common words like support, map, contact us is effortlessly clicked by user end.
3. Speed Up Your Website
Time management is one of the crucial factors that come up soon after your page lands on your web page. Visitors are really impatient to get this job done. This means that no matter how much fancy your website is, the user will soon lose his interest if your website takes more time to load. The most common approach that users follow while opening sites is that they vigorously open websites in one tab and open one of them showing results with a minimum time of loading.
4. Limit Large Videos and Data
Stuffing your page with too much of audios and videos can reduce its response time. Tempted to make your website more attractive is through multimedia, we are neglecting the facts that this may also cause problems to people that are least interested in audio or video file.
5. Update Your Website
If your website is not properly updated that this means that you are putting your 100% efforts to engage your users. Always keep your users busy in the business by giving what new you have rather than displaying them same boring stuff. Even if your business has limited purpose of serving than try to demonstrate your same business in different forms.
6. Check Your Website's Standards
Most of the websites are developed in the word-press platform as it offers standards and is easy to use. Check for the user-friendly plugins and integrate them in order to increase its performance and check for HOW TO SPEED UP YOUR WORDPRESS SITE that can make your website user-friendly.
7. Indexing
Indexing may seem very small step towards improvement but it actually it gives the really good impression to users. Whatever your services and concerns are you can index them at one corner of the website by enlisting them in the form of links. Integrating content and links together can help the user to dig out what's important you are offering.
8. Avoid Too Much of JavaScript
Using too much of JavaScript can make your website loading time more than the average time it takes. So always try to keep your code simple and avoid too much stuffing of loops as it takes sequential time in executing. It's not just code that has to be perfect but the front-end as well. If the front end is filled with too much of code than this can increase the load time of each segment and sections available on the page.
9. Check Your Website on a Different Platform
If your website is developed properly and you are sure of everything that you must check it on different platforms and browsers. Check for the proper alignment, key points and alignments it has just to avoid inconvenience on later stages. If your website is not up to certain standards and showing different layouts each time you load it this means that you will lose your users as not all of your users will have the same gadget to open your website.
10. Be Concerned About User's Needs
Always treat yourself a user to your website. Think like you are a new visitor who has no idea what services your website is offering and what impression to get after you open your website. This technique will solve your every particular concern giving you the edge of improving your website before users. Try to keep users concerns ahead by highlighting the main particulars of the websites.
Taking the example of the website for clothing brand this means that you brand xyz has all clothing categories for men, women, and kids. In this case, your audiences may appear as females, teenagers, young boys, and girls. So be concerned about every age group with gender biases and discrimination. Now, this is the art how you convince your viewers so they can become your next buyer.
11. Lemmatized Your Advertising
It can be seen that most of the people post irrelevant campaigns and posters on their websites reducing the actual purpose of website serving. Taking in account a simple example that you are running xyz business for the clothing brand and you have stuffed your websites with too much of unnecessary tags and advertisement that is of no use to users that this means that you will lose you, potential buyer. This cause irrelevant popups and navigations to different pages and user do not find it interesting to visit your page anymore. In the middle of 2015 this trend got too much hype as this concept was new but now users are prone towards this unnecessary popups and prefer to change their query of searching rather than websites filled with too much of ads and popups.
12. Keep Your Website Simple
A layman who just has an urge to buy something from your website is least interested in the backend code you have been writing from dawn to dusk rather he will be interested in steps that he needs to follow in order to fill his cart for the desired item. He/she will check how simple your website keeps things embedded in a single platform. So keep your website away from unnecessary items can for sure reduce the unnecessary stress to your website.
Adding multiple or variety of chunks of codes and sections can reduce the user's interest and it can give a bad impression of your website. Use loops, instead of writing every from scratch, import open source reusable code and follow the proper mechanism.
Now trends for websites are changing with every single day and people are very much concerned about the quality. There are almost 100 results against one query of the user. So in order to make your website user-friendly, you need to keep things simple following set of standards just to avoid problems.
Contact Us