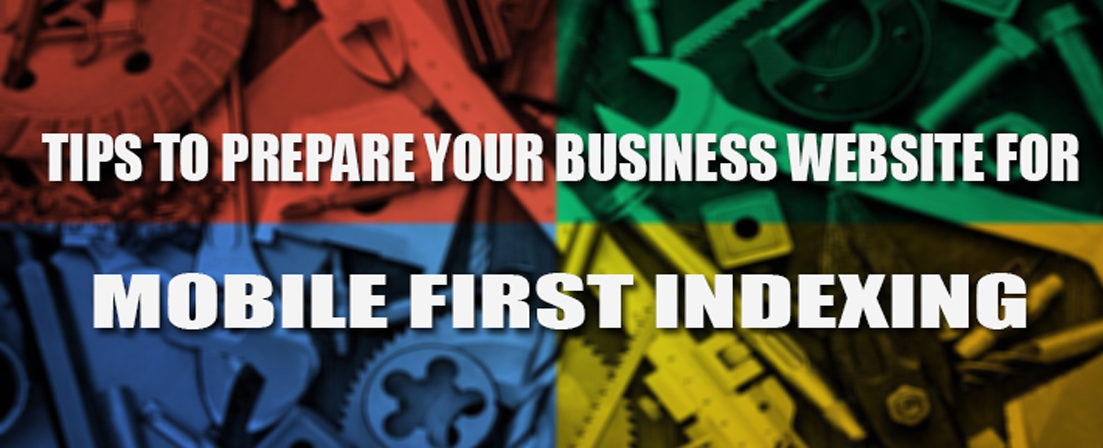 "Google will Start with the Mobile First Index from Now On"
This declaration by Google in the month of March created a hype in the online world because they formerly used to start with the desktop-first index. This switch was made because of the surpassed mobile users in comparison to the desktop users. So, to provide an enhanced user experience, Google made the decision to prefer the mobile version of the sites over the desktop version. Do not panic if you do not know how to prepare for mobile first index because, at the end of this article, you will definitely come up with a solution. We will give you the 10 Amazing Tips to prepare your Business Website for Mobile First Indexing that will prove highly useful for your mobile site.
Prepare your Business Website for Mobile First Indexing
In this mobile arena, every second person is seen using mobile phones. Some are using for the business purpose, some for entertainment purpose while some people are using mobile to make a connection globally. All this is a clear proof of how important mobiles are in today's world. Talking about the business, the importance of mobile cannot be denied for this. As Google started to index the mobile version of your site first so does you should act accordingly. The following tips will help you to prepare your website for the Google mobile first index. Let's dive in:
1. Switch to Responsive Design
If you have a website that does not respond according to the device viewing screens, you need to take an instant action, just quickly 'Switch to Responsive Design'. With the growing internet mobile users, people tend to look out the things on their smartphones more than desktops. Viewing anything on relatively a small screen (mobile device) can be a bit difficult for the viewers (if it is not mobile-friendly).
With responsive design, one can easily view your site without the need to zoom in the page. This enhances your user experience as well your ranking now. As Google started to prioritize mobile-friendly websites now then you should also prioritize this feature in order to enhance your website's ranking in the search engine's result pages (SERPs).
2. Take a Google Mobile-Friendly Test
If you are unsure of your website having a responsive design or not, then you must have to take this Google mobile-friendly test. This test will reveal that whether your website is mobile-friendly or not. In the Google Mobile-friendly test, you just need to enter your URL in the search bar and then hit the run test button. Just like this:

After Google fetch the results, you will come to know that your website is responsive or not in the results. If your website will be responsive, then this will appear on the result page alongside your site's mobile version screenshot:
If not, don't delay then. Make your website mobile-friendly as soon as possible.
3. Analyze Your Site's Mobile Usability in Google Search Console
When Google begins mobile first indexing, the Google Search Console upgraded its user experience by adding the Mobile Usability feature. By analyzing this, you will come to know the usability errors of your site that your visitors face on mobile phones.

Displayed in a graph, mobile usability report simply determines the site's pages that are causing usability problems for the visitors. The graph will show the detected usability errors experienced by users overtime on your site. The following errors will most likely to be shown in the report:
Touch elements too close
Content not sized to viewport
Viewport not configured
Small font size
Flash usage
This way, the report will help you to quickly address the issue in order to prepare your site for mobile first index.
4. Optimize Your Site's Speed
Speed is the Google mobile first strategy that runs parallel to the satisfaction level of your users. The more the speed, the high will be the satisfaction level of the users. Low speed will only dissatisfy your visitors. On the other hand, your site's speed also has a tremendous impact on your ranking in SERPs (Search Engine Results Pages). The higher the speed, the high will be the chances of your site's top ranking in search engines. In order to check out your mobile site speed, perform a mobile site speed test. Enter your URL in the Think with Google Test My Site search bar and go.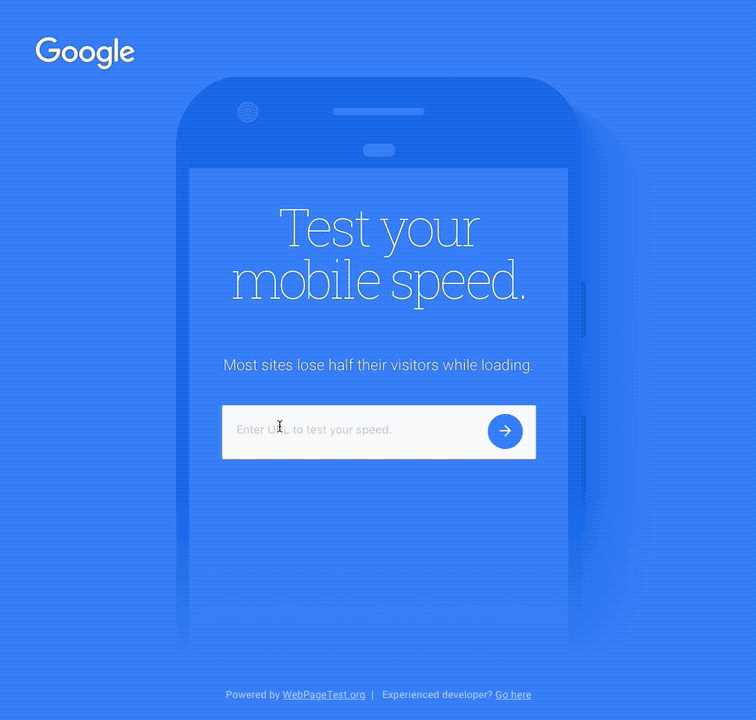 This will analyze and evaluate your site's speed and will specify areas where you need to work on. Moreover, it will give suggestions that how you should improve your website speed in a better way. According to Think with Google, if a page load time goes from:
1s to 3s-the bounce rate is likely to increase by 32%
1s to 5s-the bounce rate is likely to increase by 90%
1s to 6s-the bounce rate is likely to increase by 106%
1s to 10s-the bounce rate is likely to increase by 123%
However, by following these tips you can optimize your website for speed:
Optimize your site's images
Use a Content Delivery Network (CDN)
Enable browser caching
Reduce HTTP requests
Minify HTML, CSS & JavaScript files
5. Execute AMP Project
Another tip to prepare your website for Google mobile first index is to implement Accelerated Mobile Pages (AMP) Project to your site. The AMP Project is an open-source initiative that aims to provide users with a smooth and more engaging mobile and desktop experience. AMP Pages are built mainly with these three core characteristics:
Having AMP Pages means that you have lightning fast mobile versions of web pages. AMP Pages do impact SEO mobile first index as it amplifies web page speed to load faster.
6. Allow Googlebot to Access Your Mobile Site
With the mobile-first indexing rolling out, the importance of mobile is now far and wide because internet mobile users have surpassed desktop users. One of the steps to prepare your site for Google mobile first index is to allow Googlebot to access your mobile site. Googlebot is a small smart robot made by Google to crawl the web pages to check what's on them. Googlebot crawls the pages through links. If it finds or discovers any new content or any updated thing, then it will most likely to store that content in its index. It is true that your page will be indexed by Google if it has been called on by Google crawler i.e. Googlebot.
You can check the crawlability of your site using Google Search Console where you will analyze how this bot sees your site. While crawling, Googlebot will also list out the crawl errors (if found) for you to resolve it. One thing should be kept in mind that Google will never index your site if it faces issues while crawling. So, it is necessary for you to fix out the crawl errors as soon as possible in order to be ranked in Google's index. However, you can also request the Googlebot to crawl your website again. This will help you fix errors and make a flawless site in order to be ranked high in Google's index.
7. Annex the Structured Data Markup
Structured data markup encloses the important contents of your website in the Search Engine Results Page (SERP). Structured data markup makes it easy for Google to chunk the site's content in rich snippets making it helpful for the users to easily catch the information they were searching for. Let's have an example of a structured data markup site enclosed in rich snippets:
The above-shown example showcases the small pieces of information included on the website. Structured data markup is preferred by Google because it makes the work of Google easy. As Google does not have to put extra effort to dig out and find the important information of a site to display in the results, this is why Google tends to rank the site above that uses structured data markup. This is simply a way for you to include your site in Google mobile first index. But if you have a separate mobile site, make sure to include the same schema markup in it as included in desktop version site. Because there are more mobile users now, it is necessary for you to include the same content on your mobile site as well in order to make Google rank your site.
To verify this, you need to experience the Google Structured Data Testing Tool. Type in the URL and click 'Run Test'. Like this: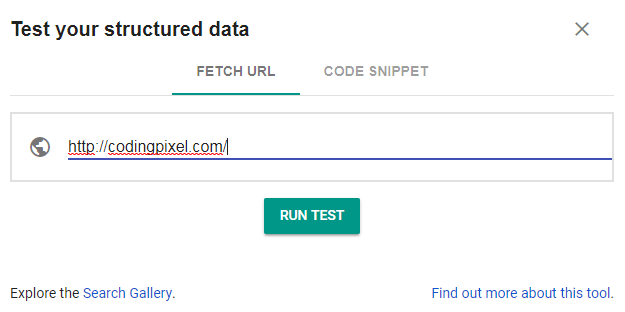 You will get the results in which it will be shown if there's any error found or any warning detected (if this will be the case, then it is the time to resolve the issue out). After getting the response you have to select all the content (as shown below) and copy it.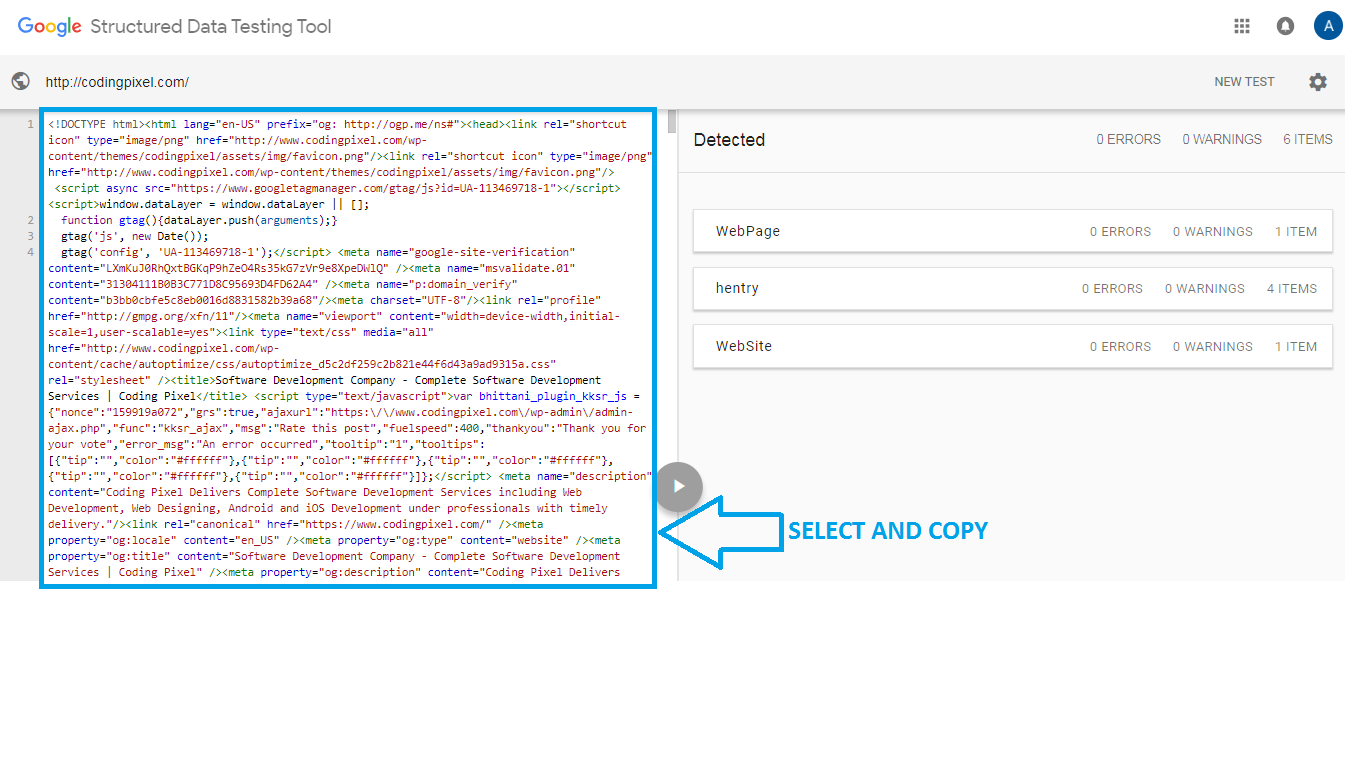 Now go to the Diffchecker and paste the content of your desktop site in one column and the mobile site content in the other column. Now hit the 'Find difference' button. This test will tell you whether your content is identical or not.
8. Avoid Flash Based Sites
There was a time when flash was considered a critical part of internet animated and video content delivery but now this concept has been demolished because flash is no longer supported by mobile phones. In this mobile era, you just need to avoid the flash-based sites otherwise it will impact your site's ranking in Google. Doing so will enhance the user experience of your website that will result in enhancing your site's ranking too in the search engine. Just say goodbye to flash and use HTML5, JavaScript or CSS3 instead. This will provide your users with an unprecedented experience which in turn will improve your website ranking.
9. Include Same Content on Both Sites
If you have a separate desktop and mobile website and your mobile site have less content as compare to your desktop website, then you need to quickly address this issue. While making a mobile site, some people tend to shrink the content because of the mobile's small screen. This is absolutely wrong. Do not change any title, heading or whatever is included on your desktop site. Every element is necessary for your SEO. As Google is now biased towards mobile-friendly websites, this is why you need to act according to Google's preferences.
10. Opt the Link Building Strategy
Consider link building as part of your growth strategy. Link, as the word suggests, is the connection between two or more things. Do not ignore the fact that Google likes only the relevant content connection. Make sure that you are linking your site to the relevant content only. Link building also reflects the website performance. One thing you should keep in mind is that as your user is visiting your site on mobile, make sure you are linking your site to the mobile site. If you include a link of only a desktop website that does not respond according to the mobile screen size, your user will face difficulties and will straightly back out from your site. So, you attentively need to take care of this thing. The more backlinks you have the more are the chances of your site top ranking in Google Index.
Bottom Line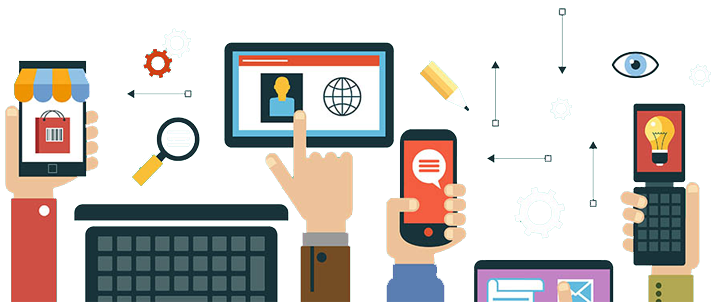 It is the time to take a jump if you haven't prepared your website for the mobile first index. Follow the following above-given tips to get a headstart for your business website. But that does not mean you should give up optimizing your site for desktop versions. Don't do this. Just because the largest search engine 'Google' has prioritized the mobile first index doesn't mean that other search engines are doing the same. No! There are other more search engines that still prioritizes desktop version of your sites. You can be benefited from them also. Start to make prepare your website for the upfront challenges. If you need any assistance regarding your site, we are here to help you. Coding Pixel provides its users with the best enterprise IT solutions and custom software development services. Feel free to contact us at 832-699-0088 or email us at info@codingpixel.com