Paul Blake

Business Owners

30 October, 2018
15 Things to Consider Before Choosing a CMS for Website Building
A website is one of the most powerful assets of any business. It displays the online presence of your business. Choosing a Content Management System (CMS) for your website is utterly the most important decision for the site's future. The decision you make while choosing a CMS for your website can have a long-term effect on your business success. This is why in this article, we have provided you with a list of the Things to Consider Before Choosing a CMS for Website Building so that you will be able to make the right decision for your website's future.
CMS for Website Building
How to choose a CMS and how to choose the right content management system? These are the questions often queried by people. But what exactly is a content management system? Let's understand it first.
What is a Content Management System or CMS?
A content management system is basically a platform that lets you create, manage and control your website's digital content. You can simply create and modify your website's content as you want and whenever you want without having the need for special technical skills. However, a CMS makes it easier for you to focus more on your data creation while handling all the infrastructure tasks.
How to Choose A CMS?
Content Management Systems are in abundance to choose from, in the digital market, depending on your website's need as well as your budget. It will be a bit difficult to narrow down the list to choose one but let us include the top 5 most used and the most useful ones.
While choosing in one of these, do a proper and thorough research about each of the CMS and then go for the one that best fits your needs.
How to Choose a Right Content Management System?
You have to properly go through the things to reflect on while choosing the right content management system. The answer to this question is right below.
Things to Consider Before Choosing a CMS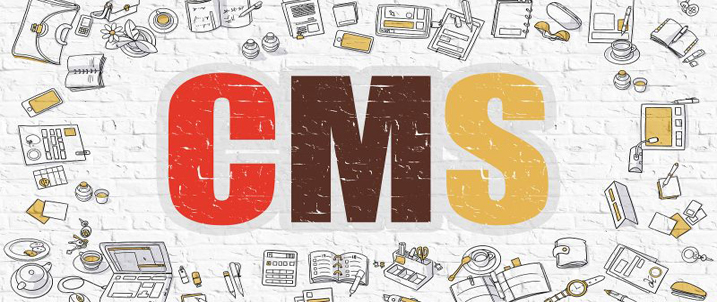 The following content management system requirements checklist will help you to make the right decision for your website's future:
1. The Core Functional Requirement
Make sure that you are opting a CMS that can fulfill the requirement you utterly need your website should do. Pay special attention to the core functionalities you need to manage your site. If a CMS aligns with your need, then it is good to go and if not, opt the other one that provides this facility.
2. Intuitive
Not every content management system comes with ease. There are many CMS that are complicated and requires special skills to run. Avoid this kind of CMS and adapt the one that provides the ease of use and is intuitive.
3. Open-Source
Look for the CMS that is open-source. Open-source CMS provides you the ease of its use with open access to the source code. With this, you can use, customize, and edit your files as you want on your site. In case, you need assistance or want to improve your site, then the developers are there to provide you the service with its open-source feature.
4. Customization Flexibility
Not all CMS provides you with the facility to customize anything on your website. Some come with certain restrictions. Don't choose the platform that has the sole right to customize things rather choose the one that allows you to do customization yourself according to your choice. You need a CMS that provides you the flexibility to present your content or anything the way you want.
5. Safety And Security Assurance
Safety and security is not an option, it is a must-have for everyone. While analyzing a content management system, make sure the platform assures the security of your content and the website. If it does not implicate the security, leave that platform. The security of a CMS platform is an important factor in decision-making. The improper security of the platform can put you at risk. Be sure to have a safe platform that maintains the security of your website.
6. Speed
Speed is another important thing to consider while choosing a content management system. Go for the one that in every aspect ensures rapidity whether that aspect is its installation or rendering of your content.
7. Scalability
You need a CMS that has the ability to scale itself according to your business needs that change over time. Also, it should have the potential to manage large traffic if they visit your website. Not every CMS can handle this which simply makes your website slow that automatically results in high bouncing rates.
8. Mobile-Friendly
Every second person is using a handy device in today's world and they tend to prefer easiness. The users are more likely to visit your website on smartphones rather than on desktop. Ensure that your content management system supports the website responsiveness.
9. Search Functionality
The search is a crucial element of the websites. Most of the users start with searching content on search engines. Often CMS fail to cope with the search functionality of the websites. Here you will need to be very cautious because this is the element which is often overlooked by people. Make sure your CMS properly handles your website content so that it is easy for the users to search and reach out to your website.
10. Editor
This is one of the features that is overlooked while analyzing any CMS. The editor is the interface that allows you to add and edit text, images, videos or whatever content you want. If you want to change the heading or update the content, this feature is the way to do all this. This feature allows non-technical people to make changes in the content easily.
11. Permission And Accessibility
If you have different people involved in working or updating the website, then it is important for you to have the ability to limit user's access to certain things. Like, you want a content writer to have access to only content related feature not the access to the administrator level. For this, you need a CMS that grant permission and access to different roles for the specific things only.
12. Multiple Site Support
Opt a CMS that will prove to be a supportive platform that fulfills not only your business current needs but the future needs as well. There are many organizations in the market that are having multiple websites. In the future, maybe it becomes your necessity to have more than one website. But not all CMS allows you to have multiple websites on their platform. This can cause a problem for your business and that is why you must choose that platform which has this feature.
13. Support Option
Everybody needs support on a certain point. So is the case here. While considering a CMS, look for the support option also. But be careful while opting any CMS because not all platforms include the support options in them. You might have certain questions or you might need some assistance while starting or maybe in future, this feature will prove to be helpful as well as important for you.
14. Pricing
Although, pricing should not be a priority while considering a content management system but it can be an important factor in the decision-making. Some platforms provide free access while some require subscription charges to use. Some offer free to use features but with least benefits while other request a purchase providing essential benefits. It is up to you which one you choose according to your budget but before making any decision, do compare one's pricing plan with the other.
15. Take Reviews from CMS Users
Just like you take reviews first while buying a product to know the benefits it provides and whether it suits you or not, do the same here. Ask from the users of the CMS, you want to opt, to know whether it is reliable and is providing the services you are looking for or not? If you get the desired reviews about the services you are looking for then go for it. But be cautious and research thoroughly before choosing them.
EndNote

Plenty of content management systems are available in the digital market, all along with their unparalleled advantages and features. It is up to you to choose the best CMS according to your business website needs. However, making the right decision can improve your business profit margins as well. So, go your way in making the right decision while hiring the best Designing and Development Company like Coding Pixel. Coding Pixel provides its customer the best services among all in the digital market. Feel free to contact us on this number 832-699-0088