Hire the best Insurance App Developers
Coding Pixel is one of the best insurance app development company that offer custom insurance app development service to insurance industry clients. We turn ideas into apps for health, automotive, medical and life insurance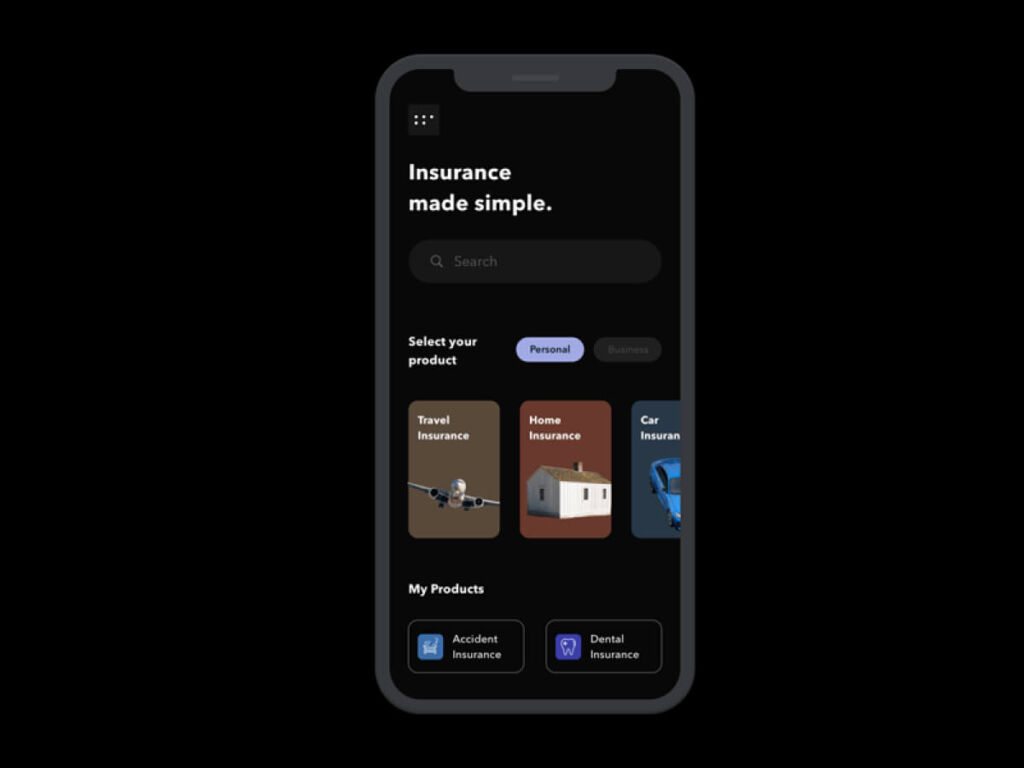 business. Get in touch with our team.
Why Insurance App Development?
Gone are the days when the insurance company's agents would sell insurance plans from door to door. Having a mobility solution has become a necessity in the wake of the technological revolution for insurance companies. We offer tailor-made Insurance app development services for Insurance businesses & professionals looking to elevate their game in the industry and serve customers in a better manner.
Coding Pixel talented developers have hands-on experience in insurance mobile application development.  We have been a hallmark in insurance mobile application development for the last 6 years due to our development capabilities, top tech solutions, responsive user interface, and unprecedented app design capabilities.
Request App Development Estimate 
Our company develop:
Car Insurance Mobile Apps
Health Insurance Mobile Apps
Life Insurance Apps
Insurance quoting apps
Insurance claims management apps
health insurance apps
Insurance compliance mobile apps
Insurance app development can be of many types such as:
Claim settlement app
App for insurance policy sale management
App for travel insurance
Auto insurance app
Mobile insurance app
Risk management app
Following are the popular MVP features in any insurance app:
1) Push Notifications
Using this feature, your company can be linked to the customer all the time. It provides a method of communication in a  convenient way and provides unlimited messages to connect directly to customer smartphones.
2) GeoLocation
It provides your company with direct access to your customer's location. It can be used to acquire the customer's location, and use it in travel insurance. It can also be used in helping foreign customers to locate various indigenous places.
3) History
It saves the previous dealings with your customers. Which makes it easier to keep a track of all the agreements. This way, the trust builds among the company and the customers.
4) Online Registration Forms
Your customers do not need to go to your branch location. They will simply register from the online registration forms. It brings more comfort to the customers and avoids the hustle at the office.
5) In-App Payment System
It uses a direct payment method via mobile apps using ready-made APIs. It simplifies the whole cashing procedure and makes the app more desirable.
Reasons why your Insurance company needs a mobile app
The global insurance industry, worth USD 5 trillion1, is undergoing a game-changing in new technology world, will re-define 'business as normal.' A new generation of insurance mobile apps, insurance automation, and Artificial Intelligence are all driving a 'digital first' urgency across the globe.
Customers' everyday lives are increasingly dominated by mobile devices. Because of this ubiquity, Insurance companies are increasingly relying on mobile to deliver the right information at the right time and in the right manner.
During the pandemic, there was a surge in the use of insurance mobile apps. Customers' post-crisis expectations for insurance apps will continue to increase as they continue to "go" and "rise" digital. Insurance companies developing their own mobile apps to help insurers transition from conventional to digital business processes, making the insurance environment more customer-centric. AI insurance apps help insurance firms streamline their activities and deploy new insurance delivery networks. The information gathered through the telematics-driven approach assists insurers in developing an efficient automated claim management process and enables insurers to offer customized products that fit the needs of their customers.
Customers can use digital insurance apps to find quotes online, compare insurance plans, fill out forms online, and get the right policy with the best coverage in no time. We being a leading insurance app development company in USA, developing insurance apps as per insurance business requirements.
Why you need to upgrade your existing insurance apps
The global insurance industry is undergoing a transition to 'digital-first' business models, which have the potential to unlock billions of dollars in new value. Mobile will act as a catalyst for change in the insurance sector and ecosystem as a whole. Because of the native capabilities of mobile apps the products, payments, delivery, underwriting, operations, and even what constitutes intellectual property will look quite different in coming years.
Insurers are using the Internet of Things, advanced analytics, and AI based apps to create more granular customer risk profiles as they concentrate more on tailored premiums and usage-based coverage. Your old insurance apps is not suitable for new trends, As, Consumers have become accustomed to receiving tailored solutions, and the insurance industry is no different. Most insurance consumers want customized deals to suit their needs, from notifications to pricing to reviews.
Mobile app chatbots, which are the offspring of AI and machine learning, can communicate with customers and assist them with policy applications and claims. So it's the time to upgrade your existing insurance app.
How a mobile app can help your insurance business
The industry's best days are ahead as insurers adjust to new market models, consumer segments, and technology. Customers and agents would be empowered if digital insurance professionals use the power of mobile apps to provide the right information at the right time. Mobility will transform the way insurance firms market, sell, and serve their clients, presenting plenty of new opportunities to insurance companies.
Insurer-insured partnerships can be reimagined thanks to insurance apps. Since they incorporate data from multiple sources, mobile apps can allow the development of insights-driven offerings. More reliable risk assessments, tailored premiums, and value over a long-term basis would result in improved consumer service and brand loyalty, as well as less false statements, thanks to a greater understanding of customer habits.
There are 6 billion mobile app subscribers worldwide, accounting for 87 percent of the world's population. The insurance industry will be totally transformed by apps. Competition, consumer relationships, organisational procedures, and the expertise needed to manage emerging systems and technology.
Insurance App Developers
 The leading insurance mobile app development company. We have a team of award-winning insurance app developers who have collaborated on projects with some of the world's most prestigious insurance companies. We'll develop a custom insurance app for your business as per your needs. We've collaborated on projects in a variety of fields. Insurance providers, representatives, and customers can all benefit from using mobile insurance applications. As a result, providing a mobile app for insurance providers becomes a requirement rather than an option. Insurance firms can reach their customers quicker and more effectively, in a clear and responsive manner, with the help of their own insurance mobile app. The majority of insurance firms, large and small, need a quick and intuitive way to turn ideas into reality. Coding Pixel provides highly engaging insurance app design and development capable of transforming the user's experience when a target fits with our creative strategies. We are the number one insurance app development company and rightly so, the apps we developed for our clients are doing great in app store. Looking to hire insurance app development company? Get in touch with team of experts!