How Much Does it Cost to Build an On-Demand Grocery Store
Online Grocery Website Development Cost The world is no doubt going digital since smartphones have become such a necessity in everyone's life people prefer to get all their work done from them: whether it's a job work or home chore. When it comes to grocery shopping, gone are the days when people would make a […]
Author
Paul Blake
We can help you! ❤️ CodingPixel
Seeking expert advice or consultation for your mobile app or website idea? or looking to revamping your existing app or website?
Schedule A Free Consultation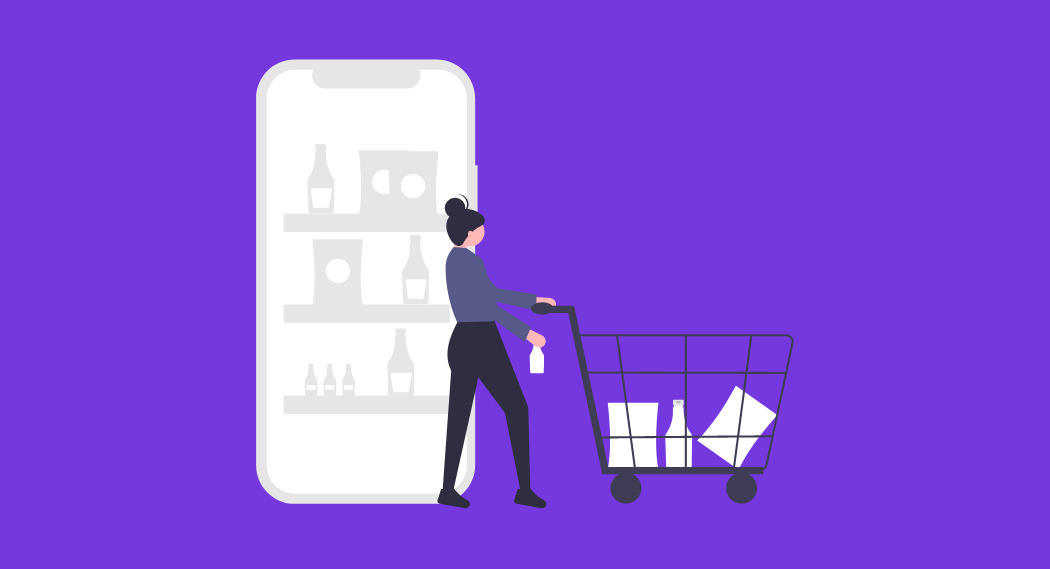 Online Grocery Website Development Cost
The world is no doubt going digital since smartphones have become such a necessity in everyone's life people prefer to get all their work done from them: whether it's a job work or home chore.
When it comes to grocery shopping, gone are the days when people would make a hard list and take the time of their days to go to the supermarkets and reasons for that are a few: Its time consuming, feels like a hassle and why go out when you can get delivered what you want to your place.
Online grocery shopping is one of the fastest-growing trends in the market, whether it's a small grocery store or huge grocery business chains, people are shifting their businesses online for not just their customer's ease but the business benefits it brings with it. As ballpark estimate online grocery store development cost $3,000 to $20,000 depending on unique requirements.
Online grocery store developers – for Grocery Business
Coding Pixel is one of the best grocery store e-commerce development companies out there. We don't just say it ourselves, our clients are vast and broadened to the global level. We have a skilled and experienced team of grocery website developers, designers, project managers, business analysts just to build you the project of your dreams.  we are globally known because of the websites we develop which are innovative, simple, aesthetically pleasing, advanced, highly functional and user-centric.
Our websites are customizable but the basic structure includes two panels: customer and admin. Their default key features include:
Customer panel
User registration/ easy log-in: option to login/sign in using other applications or directly.
Products search: Customers can search for any specific product in the search menu.
Shop by category: products are divided into categories, making it easier to shop.
Location tracking: location can be tracked of the nearby market or the rider who's delivering the packages.
Prices and reviews: prices and reviews of the products are mentioned alongside the images.
Delivery options: features like schedule a delivery, pre-order or change delivery address on the spot.
Payment options: customers can choose to pay how they want to pay, either by card or on delivery.
Add to cart/remove from the cart: simple processes to add and remove items from the cart at any time of the shopping.
Re-order: re-order the previous orders.
Order tracking: track the order from starting until it is delivered.
Offers and discounts: customers can see the deals and offers that are provided to them.
Settings: edit profile, change billing method or change the delivery address, etc, settings are made easy.
Feedback: Customers can give feedback on the services and products.
Admin panel
User registration/easy log-in: option to login/sign in using other applications or directly.
Inventory management: option to add new products or check how many are remaining.
Order management: micromanage all the orders that are taking place.
Customer interaction: option to reply to customers and maintain communication.
Order requests: option to keep a track of order requests to make sure you want to accept/cancel it.
Billing/payment methods: options are given to choose a suitable billing method.
Live location: you can share the location with the customer to keep track of orders.
Notification alert: any new notification will be instantly shown so you miss nothing.
Customer details: every detail of the customer is saved for future references.
Customer reviews and feedback: customers can give reviews and feedback which you can see too.
Services provided: a list of services you provide and the products you deal with.
Our grocery website development process
Our team is not just skilled but they are very good communicators, we best believe our clients are our first priority as it's true, we are here for them and because of them.
Our first step includes requirement gathering, every need, and expectation of the client is listened to closely and jotted down to be taken care of.
Once the needs are known, our business analysts and project managers come up with the most suitable strategy for our client's project while keeping the demands of the client in focus.
The next step is development, this is the part where we put our actions where our words are, exemplary front and backend services. We build highly aesthetic front ends using top UI/UX experts and backend is also build on-demand and every need of the client is taken care of.
And last but not least, quality check and assurance: several tests are carried out after development to ensure the project is working exactly as expected.
Our explicit and implicit services
We don't just develop websites from scratch but also upgrade and modify previously developed websites of our clients for them. Our services don't end after the development process, we also help our clients to maintain and support their websites if they ask. Our team also provides SEO services along with content creation, writing, and management for the websites. Our best approach to keep our clients happy is to deliver them projects better than they asked for and to make sure we deliver them on time.
Why us?
We are known for the quality of services we provide; our team makes sure you're heard and your ideas related to the project are turned into reality. We build our relationships with the clients, in the long run, we love to be the one who they come when having any problem or want to develop a revolutionary website. But don't just believe our word, come talk to us and let us show it to you.
Contact Us