Shopify or BigCommerce – Which is Better?
Two of the most well-known eCommerce shopping cart solutions are Shopify and BigCommerce. Both platforms deliver excellent ease of use, reasonable pricing, appealing website design, and dependable customer support. But how does one choose the better of two excellent choices when the chips are almost down and you have to make a decision? A comparison […]
Author
Paul Blake
We can help you! ❤️ CodingPixel
Seeking expert advice or consultation for your mobile app or website idea? or looking to revamping your existing app or website?
Schedule A Free Consultation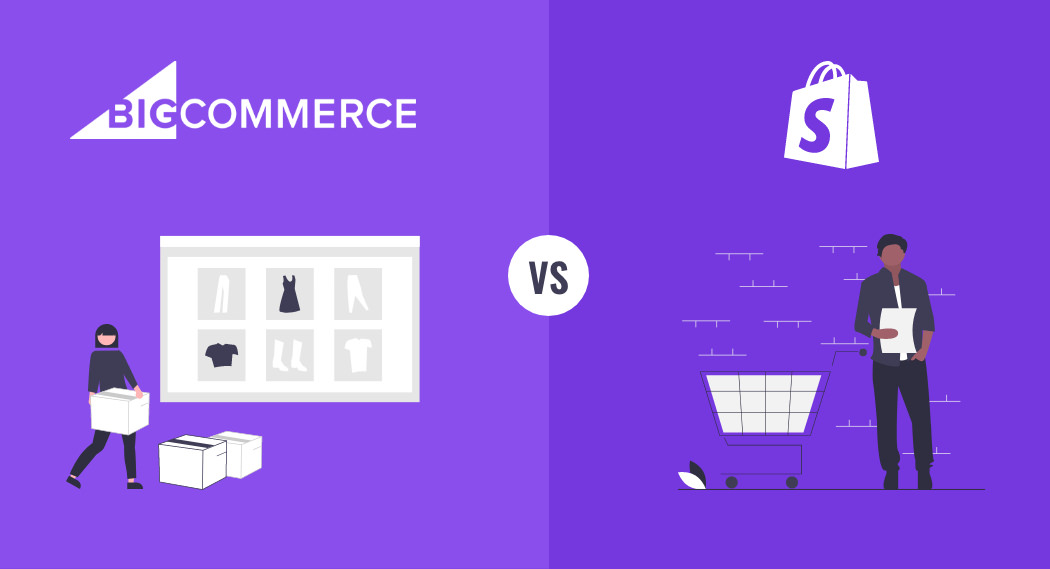 Two of the most well-known eCommerce shopping cart solutions are Shopify and BigCommerce. Both platforms deliver excellent ease of use, reasonable pricing, appealing website design, and dependable customer support. But how does one choose the better of two excellent choices when the chips are almost down and you have to make a decision?
A comparison of BigCommerce vs. Shopify is a near matchup between two worthy eCommerce rivals. Both platforms have a good reputation, and they excel in areas like built-in applications, integrations, and customer care. Your personal needs and interests will most likely decide which alternative is best for you.
An Overview of BigCommerce
In 2009, BigCommerce made its debut on the online shopping scene. Since then, it has expanded to over 153,000 users who process over $365 billion in revenue annually. BigCommerce represents both large and small businesses. A platform that can handle Skullcandy and Ben & Jerry's might be able to handle your eCommerce requirements as well.
BigCommerce is a completly hosted SaaS (Software as a Service) platform that provides a low-cost platform with scalability as well as the ability to customise the experience with a number of integrations and add-ons. It includes an admin panel for handling goods and orders, as well as a variety of marketing tools built-in. Even if you've never designed or run a website before, or if you're totally new to the world of eCommerce, you'll find that getting started with BigCommerce poses few challenges. After entering your name and contact information, you'll be asked a few simple questions about the items you want to sell. After that, you'll be taken to this dashboard, where you can begin building your shop.
BigCommerce caters to vendors offering a variety of goods, including physical and digital objects, subscriptions, and even event tickets, and is fully cloud-based with no software to download. You can sell on eBay, Google Shopping, Facebook, Pinterest, and Amazon using BigCommerce. It has inventory management, delivery, marketing, and other features built in — pretty much everything you'll need to get your Ecommerce store up and running.
| | |
| --- | --- |
| Pros | Cons |
| ·        Easy to use | ·        Limitations on designs |
| ·        Sales from multiple channels | ·        Expensive for some |
| ·        Free trail | ·        Yearly sales cap |
An Overview of Shopify
Shopify, which was created in 2004, is one of the major players in the eCommerce industry, with over one million merchants in 175 countries and over a billion dollars in annual sales. About 218 million people have bought something from a Shopify store in the last year. Heinz, The Economist, and Crabtree & Evelyn do not seem to have much in common, but they all use Shopify eCommerce solutions. The system has supported over $100 billion in retailer transactions since its inception.
Shopify is a fully-hosted SaaS (Software-as-a-Service) platform that can offer complete eCommerce solutions to companies of all sizes, from small businesses to large corporations. Hundreds of apps and add-ons work together with Shopify's built-in features to offer you all you need to start and run an eCommerce company. Its greatest selling point, however, may be its extreme ease of use. Start with the 14-day free trial and you'll quickly become accustomed to the user interface. Setting up a standard online store takes just a few minutes, and all you need is your name and address, as well as answers to a few easy questions about what you want to offer.
Even if you don't have any items to sell, Shopify makes it simple to get started in eCommerce. Instead of adding your own items, you can search for a product to add to your store if you want to start a dropshipping company. Shopify also highlights choices for food and beverage companies, such as quick ways to incorporate delivery and pickup times.
| | |
| --- | --- |
| Pros | Cons |
| ·        Easy to use | ·        Transaction Fees |
| ·        Sales from multiple channels | ·        No single page checkout |
| ·        Free trail | ·        Costly Applications |
Features
BigCommerce and Shopify both come with a comprehensive collection of features right out of the box. Both platforms have a common collection of built-in features, with a few notable exceptions:
| | | |
| --- | --- | --- |
| Features | BigCommerce | Shopify |
| Inventory Management | Yes | Yes |
| Multichannel Selling       | Yes | Yes |
| SEO Tools     | Yes | Yes |
| In-house Fulfillment        | no | Yes |
| App Store    | Yes | Yes |
| Guest Checkout     | Yes | Yes |
| Automatic Shipping and Tax     | Yes | Yes |
| Abandoned Cart Recovery      | Yes | Yes |
| Discounts | Yes | Yes |
| Analytics | Yes | Yes |
| Unlimited products          | Yes | Yes |
| Marketing Tools    | Yes | Yes |
| Blog | Yes | Yes |
| Single-Page Checkout      | Yes | no |
Most anything you'd like for your eCommerce shop can be found as an add-on, most likely from either platform's own app store. Of course, everything you purchase from the app store has a price tag attached to it, so if you see anything missing from the features list that you know you'll need, bear in mind that adding it will lift your total cost. Since both BigCommerce and Shopify have the basic features — and more — that you'd expect from a top-tier eCommerce platform, the decision will be focused on the needs of each consumer. Note that both platforms have a free trial period with no credit card necessary to get started, enabling you to set up a store and try it out before making a decision. Since each platform is so user-friendly, it's a small investment of your time that could save you money in the long run. If you test both platforms, you'll find that, although they vary in some ways, they're both more than satisfactory in most areas. However, there are some major variations, so let's take a closer look at them.
Difference in Design
With over 100 mobile responsive themes to choose from, Shopify is at the forefront for best web design. There are about eight free in-house options, with the rest costing between $140 and $180 and supported by third-party developers. Shopify's themes are all professional, elegant, and simple to use. Ofcourse, if you do not like what you see, you can use HTML, CSS, and Shopify's own language, Liquid, to create your own theme using Shopify's code. When comparing Shopify VS BigCommerce in terms of design, there isn't much of a difference between the two platforms. There are about 150 Stencil themes available at BigCommerce, with about 500 total variations or styles. You can choose from 12 free themes or 36 styles, or pay $150 to $300 for a theme. BigCommerce themes are all mobile-friendly. Stencil themes are simple to edit without having to dig into the code, though you can do so if you want.
Difference in Checkout
Each platform has a simple checkout process that allows customers to check out as visitors and automatically calculates tax and shipping on orders. In this regard, BigCommerce has a significant advantage: single-page checkout. Although Shopify does not have a built-in single-page checkout option, you can use a third-party app to enable it.
Difference in POS Solutions
Shopify's point-of-sale system is one area where it excels. This allows you to conduct in-person sales through your online store, which can help you manage inventory if you meet customers face to face on a regular basis. If you want to use your BigCommerce store for POS, you can download one of 18 apps, including Clover, Vend, and Square POS.
Difference in Multi-Currency Support
Shopify enables international online retailers to sell in different currencies by offering two currency values (the store's and the customer's). More than 130 currencies are approved as payment options. Rounding rules may be allowed to make converted prices more consistent or to regulate how prices appear in the new currency, for example, all prices ending in.99.
BigCommerce supports global sales, with 100+ supported currencies on stores built on Stencil themes with optimised one-page checkout, despite not having as many options. You can set rules to control how currencies appear in each region, based on local customs and best practises.
Difference in Fulfilment
Just one of the two shopping cart systems comes with built-in fulfilment. Based on where your orders are coming from, the Shopify Fulfillment Network recommends which fulfilment centre you should ship your products to, notifies you when inventory is running low, and provides a custom packing option. From your admin dashboard, you control everything except the pick and pull. Shopify charges a per-item transaction fee and storage fees based on the square footage of space used in their warehouse. You can, of course, opt to use a third-party fulfilment service.
BigCommerce incorporates with nearly two dozen third-party fulfilment services, but there is no in-house fulfilment option. Some fulfilment companies charge a monthly fee, while others charge per item. If one of your eCommerce goals is to use a fulfilment service, you'll need to do more research to find the best fulfilment partner for your needs.
Difference in Dropshipping
Starting a dropshipping company is simple with Shopify. You can use Oberlo, AliExpress, Sprocket, or another dropshipping app to integrate your Shopify store. Dropshipping is also possible with BigCommerce, but it involves the installation of an app.
Difference in Pricing
When it comes to shopping carts, price is a big factor for most of us. Pricing for BigCommerce and Shopify both have fairly priced plans. Both give free, no-credit-card-required trial periods (a 15-day BigCommerce trial and a 14-day Shopify trial), as well as no fees for setting up or cancelling plans. You will not be required to use your credit card until the trial period has finished. Each shopping cart platform has tiers of pricing, with higher-priced plans providing more functions and features. The prices shown are for monthly billing; annual rates are still available and are significantly less. If you'd like more time to check the site again after free trial period ends, you can stick with monthly rather than committing to a full year.
BigCommerce Pricing
Standard: $29.95/month
Plus: $79.95/month
Pro: $299.95/month
Enterprise: Custom pricing for enterprise-level
Consider the fees you'll pay as a cost of doing business while assessing BigCommerce pricing. Although BigCommerce does not impose transaction fees, you will still be charged by your third-party payment processor. To accept payments online, you can select from 65+ payment gateway integrations. Digital wallets such as Apple Pay and Amazon Pay, as well as conventional payment gateways such as Checkout.com, Clover, Klarna, PayPal, Square, Stripe, and others, are included. BigCommerce provides discounted PayPal driven by Braintree processing, with rates ranging from 2.9 percent plus $0.30 on the Regular plan to 2.2 percent plus $0.30 on the Pro plan.
When analysing BigCommerce pricing, bear in mind that each plan level has revenue limits based on a 12-month trailing period. You'll be automatically moved up to the next plan stage if you go over your plan cap. Sales up to $50,000 are covered by the Regular plan, $180,000 by the Plus plan, $400,000 by the Pro plan, and $500,000 by the Enterprise plan. Although growing revenue is a good business objective, it can result in a higher monthly cost for your BigCommerce eCommerce plan.
Shopify Pricing
Basic Shopify: $29/month
Shopify: $79/month
Advanced Shopify: $299/month
Shopify Plus: Custom pricing for enterprise-level customers.
Shopify also has a $9/month Lite plan that allows you to sell online without having to set up a full store. You'll get an embeddable cart, the ability to process in-person orders, and the ability to use a buy button on social media sites, but you won't get your own website. In a couple of main respects, Shopify's pricing varies from that of BigCommerce. For instance, Shopify has a built-in payment system. Your credit card transaction rate will be calculated by your Shopify Payments plan amount if you use Shopify Payments as your processor. It's available in 17 countries, including the US, but not in US territories other than Puerto Rico. You may pick from more than 100 payment gateways if you don't want to use Shopify Payments or if your company doesn't count.
That takes us to the second important distinction between Shopify and BigCommerce payment methods. Shopify, unlike BigCommerce, charges fees for any purchase except those made through Shopify Payments. The transaction fees differ by service plan, ranging from 2% to 0.5 percent of each transaction made outside of Shopify Payments. When you use Shopify Purchases, you eliminate transaction fees and pay a fairly regular credit card charge that drops from 2.9 percent plus $0.30 per transaction on the Simple Shopify plan to 2.4 percent plus $0.30 per transaction on the Advanced Shopify plan.
Each plan level on both platforms adds more features and admin accounts. However, each platform is distinct from the others. Since the rates are almost equal, you'll have to choose your poison when it comes to these disadvantages. The good news is that both platforms are fairly priced overall, with all plans providing unrestricted online storage, bandwidth, and goods. You can't go wrong in terms of price as long as you understand the key differences. Of course, if rapid growth is part of your business strategy, or if you're already seeing enterprise-level revenue, both Shopify and BigCommerce will help. BigCommerce Enterprise pricing is based on the average order value and the average number of orders you process per month, and is targeted at companies with annual sales of more than $400,000. The BigCommerce Enterprise plan has the same dashboard and features as the other BigCommerce plans. Customers that are on the enterprise level offer extra assistance and equipment.
Shopify Plus is a custom-priced solution for large eCommerce vendors, designed specifically for companies with annual sales of more than $500,000. The monthly fee or a percentage of platform transactions, whichever is higher, is used to assess pricing. Shopify Plus provides unrestricted storage, transactions, and goods, as well as multi-channel capabilities, automations, and wholesale and B2B applications, in addition to the features found in lower-level Shopify plans. Priority customer service is, of course, included. Also, Shopify Capital, the company's own business financing service, is available. You may have eligibility for a merchant-cash advance through Shopify Money (MCA).
Ease of use
BigCommerce and Shopify now have user-friendly administrators. If you've ever used WordPress to create a blog or sell on Etsy, you'll have no trouble choosing a theme, adjusting settings, and adding items and photos to either site. If you need assistance with the setup, both organisations provide phone help, forums, a knowledge base, video tutorials, and other tools. BigCommerce has a user-friendly admin panel that makes it simple to complete the tasks needed to get your store up and running.
Since BigCommerce comes with more features out of the box than Shopify, you'll need to learn more elements to navigate the backend. However, it's worth devoting a little extra time to ensure that you end up with a well-functioning store that makes good use of reporting and discounting functionality.When you visit Shopify, you'll note that it has one of the most user-friendly interfaces available. In the sidebar to the left, you'll find everything you're looking for. With smart WYSIWYG (what you see is what you get) editing software, adding items, creating discounts, and editing your site's content is easy.
In fact, a comparison of BigCommerce and Shopify reveals that both provide the functionality, navigation, and usability that you would expect from a top-ranked shopping cart solution. However, since Shopify is a simpler out-of-the-box programme for most beginners, it may eke out a narrow victory in this group. At the end of the day, it will all come down to personal choice. This is where the free trials come handy once more. You should try them both out and see which one is more comfortable for you.
Customer Service & Support
Both carts provide plenty of help in the form of 24/7 phone, email, and live chat support, which is already more than many eCommerce solutions can boast. Overall, most users appear to be satisfied with the platform they select. Again, the free trial period is an excellent way to evaluate the company's responsiveness and support resources.
Both platforms have a sizable library of publicly available support materials. BigCommerce has a forum, resource centre, and knowledgebase that are all very useful. A forum, blog, and knowledgebase are among Shopify's equally impressive resources. Although each platform has received praise — and criticism — for the consistency and helpfulness of its customer service options, each has received more positive than negative reviews.
User Reviews
Despite the unavoidable negative feedback, both channels earn high marks through numerous review sites. Take a look at G2 Crowd's user rating overview. As you can see, Shopify beats out BigCommerce in three main areas: ease of use, service efficiency, and ease of setup. Although both platforms are highly rated, Shopify outperforms BigCommerce in terms of user satisfaction.
The most common compliments for Shopify are its ease of use, fantastic themes, and comprehensive app store. The cost of add-ons to get advanced functionality and transaction fees are the most common concerns. The cart's powerful SEO tools, built-in marketing features, ability to build and manage various product variations, and one-page checkout have all been praised by BigCommerce merchants. Some users complain about a steep learning curve and a lack of template layout power, which is understandable given the lack of a native drag-and-drop tool.
Add-on & Integration
BigCommerce has nearly 900 useful and intelligent integrations across 20 categories, spanning from accounting to B2B/wholesale to product sourcing and just about everything else. This includes well-known brands such as MailChimp, Quickbooks Online, and Facebook ad extensions, as well as lesser-known but still useful players. Despite this, BigCommerce is a distant second to Shopify's 4,200 apps.
Bear in mind, however, that BigCommerce comes with more features out of the box than Shopify, which you will have to pay extra for. There are plenty of free modules in the Shopify app store, but bear in mind that grafting a non-native feature into your dashboard introduces a layer of complexity to your device that comes with its own learning curve.
Key Difference Between BigCommerce & Shopify
When it comes to choosing between BigCommerce and Shopify as your eCommerce site, the good news is that you can't go wrong. Each is a good option, with impressive ease of use, comparable pricing plans, and solid support and service backup. In reality, there are only a few main differences that might be enough to sway your decision. Neither has to be a deal-breaker, but keeping these things in mind will help you shop wisely:
Sales Limits: If sales & revenue growth are essential aspects of your business strategy, be mindful that each BigCommerce service level has a sales cap. Fortunately, the restrictions are very lenient. Sales of up-to $50,000 per year are allowed under the Standard plan, $180,000 under the Plus plan, and $400,000 under the Pro plan. After that, you'll have to pay for a custom Enterprise package, which is more costly.
Transaction Fees: Depending on the plan you select, you'll pay a transaction fee on any item you sell through your Shopify store, with fees varying from 2% to 0.5 percent. That's on top of the transaction fees your gateway processor charges. Yeah, there is a way to get out of paying those fees: If you pay for Shopify, you won't have to pay any additional fees. Unfortunately, you'll need to meet the criteria for Shopify Payment, which not everyone does, so that option may be out of reach for the time being.
Your Business needs:
Both platforms are extremely scalable, particularly now that dedicated plans for enterprise-level companies are available. One major difference between the two platforms is how business development is handled.
Your company's revenues are stable, and rapid, dramatic growth is not one of your priorities. As an example, let's assume your monthly sales are about $4,200. The $30 monthly package will be eligible to sign up for. Your revenue would hit $50,000 if your total monthly sales grow to $4,167. You'll be automatically upgraded to the next highest plan at that stage, moving from $30 to $80 a month. You may not even note the rising price. When your annual sales hit $180,000 (or $15,000 a month on average), you'll switch from the $80 monthly plan to the $300 monthly plan. Despite the welcome rise in sales, you might not be pleased with the automatic, inevitable monthly cost increase.
Your small company wants to expand in the future. Smaller companies will benefit from Shopify's $9 and $29 plans, while larger businesses and others seeking to expand will benefit from the company's scalability. Check out Shopify Payments to see if you qualify to use it as your payment gateway, or be prepared to budget for transaction fees in your company. By strategy, Shopify limits the number of workers accounts you can add, while BigCommerce restricts revenue. When you need to add more than two permission-restricted staff members to your platform, for example, you'll need to upgrade to Shopify's $79/month package. BigCommerce will automatically upgrade you to the $79.95/month package until your annual revenue exceeds $50K (roughly $4,170/month).
The Final Verdict
In all honesty, whether you choose BigCommerce or Shopify in a head-to-head comparison, you'll find an embarrassment of riches. Both provide attractive templates, simple tools for quickly setting up a store, a plethora of add-ons and integrations for customising your store to your exact specifications, and secure shopping experiences for customers across multiple platforms. Anything that either platform lacks, it appears, can be compensated for with a readily available add-on. Much of the decision-making will be based on the preferences of each individual user. Overall, we believe Shopify maintains a slight — and only a slight — advantage. We continue to dislike Shopify's transaction fees and want price-conscious shoppers to be aware that, in addition to the fees charged by your payment processor, they may be giving away a portion of each sale to Shopify.
Shopify is a common platform for eCommerce companies of all sizes, from small startups to large corporations. It's simple to use, flexible, and has built-in capacity for fulfilment and financing. The $9 monthly package, which helps small businesses to dip their toes into the eCommerce pool and provides built-in receptivity to the world of dropshipping, is one of our favourites.
There's a lot to like about BigCommerce too, especially its rich feature set, easy-to-use admin, and plentiful add-ons. It will offer the ideal solution for many vendors, and you owe it to yourself to test both platforms before making your decision. We assure you, it's worth the time commitment to try out both BigCommerce and Shopify using the free trial periods. Check out our in-depth analyses of both BigCommerce and Shopify for more detail on each cart's offerings. With a contrast as similar as this one, once you educate yourself you just can't make a wrong choice!
Contact Us