Paul Blake

Web Design

11 January, 2019
8 Best Tips to Designing Perfect Product Detail Page for Your eCommerce Website
Do you remember the last time you shopped online? What were the points that urge you to make a purchase? Good reviews, product quality, price, discount deals, free shipping or what? Or you end up leaving the page? Surely, there must be something that itched you to take an action or just leave it. So, the highlighted thing is that every point whether it is small or big matters a lot in the customer's purchasing journey. However, the place, where the customer has to make a decision on whether to purchase it or not, can impact greatly on the customer's decision. That special place is called the 'Product detail page'. Here, the power of presentation that you have, if properly used can increase your conversions to a great extent while making your E-Commerce website growth better. So, in this article, we will provide you with the 8 Best Tips to Designing Perfect Product Detail Page for Your E-Commerce Website in 2019 that can boost up your sales and at the same time the growth of your business.
Tips to Designing Perfect Product Detail Page for Your E-Commerce Website
As the saying goes 'First Impression is the last impression', so does the customer's decision. This means that you have to be very careful while designing the place where the decision has to be made. Mostly store owners focus more on the homepage and forget how important the product page is for their business. They need to understand that the E-Commerce product detail page can have a great impact on sales. All this depends on the presentation and the information provided on the page that has the capability to make or break a sale. Whether you have a small or large E-Commerce business, you must adopt the product page design best practices in order to make your site's growth better. Now, let's get started with the tips for designing a perfect product detail page.
Include Stunning Product Images
The presentation takes huge importance when it comes to selling product to consumers. The more presentable it is the more it will make people want it. According to Powered by search, 92% of the people are influenced by the product visuals while making a purchase. Nonetheless, the best consumer product websites are also using such stunning visuals that one cannot take their eyes off from them unless they purchase it. However, one can create stunningly amazing product images with the following factors:
High-Quality Images: The quality of the product images greatly affects sales. Because customers cannot touch or wear the product as they are shopping online that is why they will analyze the quality of product image first and then make a purchase. That is how the clarity of a visual is very important for the human eye as the customers have to analyze the product through the image while making a decision for purchasing of a product.
Product Categories: Making categories of products not only look organized but it also makes an easy way for the people to choose from a number of products what they are actually looking for.
Images with Same Dimensions: Product images with the same aspect ratio makes your site look clean. However, some online store owners do not focus on this and make their product's images dimension uneven. This ultimately makes the products jumbled up for the customers while looking, which, in turn, makes your customer annoyed resulting in abandoning the store.
Product Variation: If your product comes in different colors or different material, it will be highly beneficial for you to include in your gallery. By displaying the different products' variation, it will be helpful for the customers to see exactly what they will be getting.
Detailed View: Giving a detailed view of your products to your customers helps them to have a look at the product more closely. People tend to view the products by zooming in to exactly feel the texture of the product. Make sure you are providing the zoomed in facility to your customers.
360˚ View: Another important thing to include is the 360˚ view of the products to your customers. This way you will not have to display your products images from different angles. 360˚ view of the products will provide your customers the view of the product from every aspect. Another benefit of this view is that it helps you to save space on the page.
Product Video: Videos are a great way to make people understand something better. Adding product demo video can enhance your sales making the people actually understand what your product can and will do.
Price tags: It cannot be denied that to a certain level all consumers are price conscious. It does not matter how much they liked your product, if the price is out of their range, they won't buy that. So, it is better to include the price tag along with each product so they decide on the spot whether they want that product or not. If the prices will be displayed after hitting the 'Add to cart' button, there's a possibility that your customer might leave the cart abandoned after getting to know the price. This will be helpful for the customers to know the price first then getting the product. So, you need to display the prices in a very prominent way.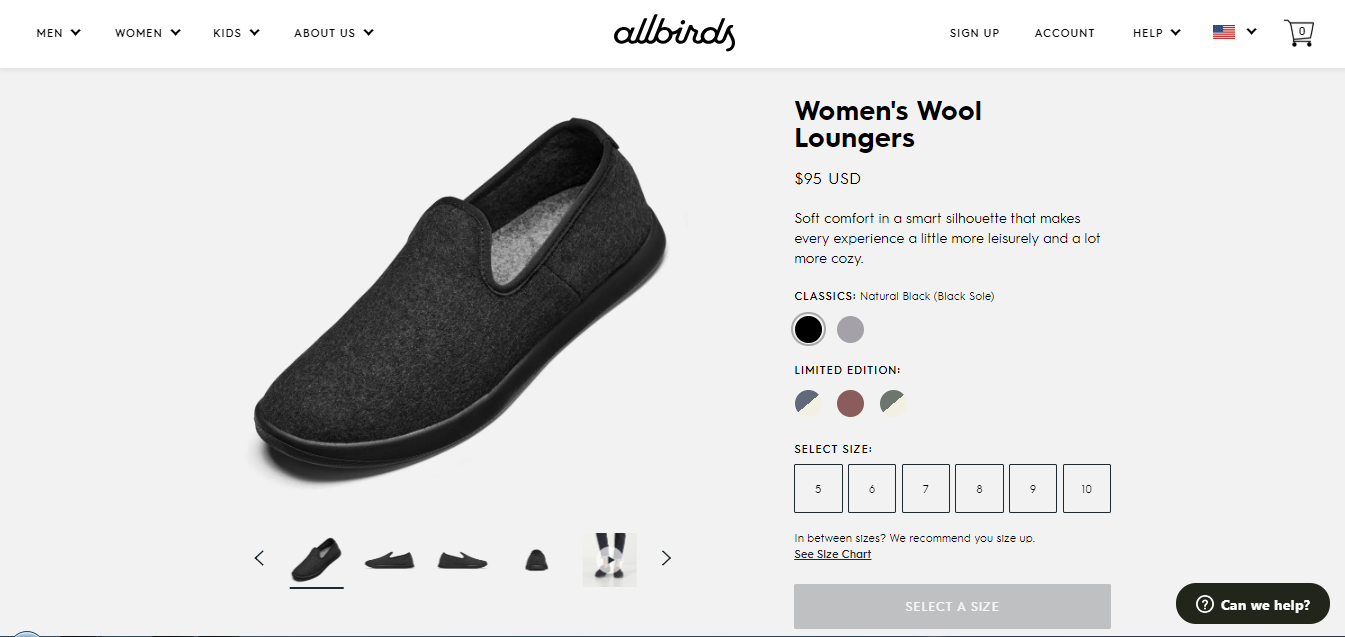 Allbirds, a shoes selling company, contains a simple but one of the best product pages. It includes almost every aspect what a perfect product page needs to include. From adding product variation to product videos, here's their amazing product page design template:
Provide Informative Product Description
Product description is the main thing that helps you persuade your customers to make purchases. You should provide enough information to make your customers fully understand what this product is and what it can do for you. This way your customers will make their decision easier by knowing that the product is right for them. Writing an informative and unique product description is quite challenging. At the same time, it can prove to be highly beneficial for you as the high converting product pages comprise of such things. Avoid providing over information, just be concise and clear what your customers need to know. Also, don't give information as you are selling just keep the tone that reflects the benefits of the products. Make bullet points of the description and avoid using complex words and long sentences. You can also provide two versions of your product description: short or long. It will be up to the customers which description they wanted to read because some people just want concise information while others might want to know the product in depth. So, this will be helpful for your customers as well beneficial for you to increase conversions. Below is an example of a wonderful product description as well the design. Peakdesign includes every aspect of a product page design. The detailed product description, 360˚ view of the product, rating, price etc. everything what a perfect product page comprises of.
Add a Prominent 'Call to Action' Button
Once you have given the description of your product's benefits, now you have the right to call your shoppers to take some action. This can be done via the 'Add to cart' button. The key purpose of a product page is to urge shoppers to click on that 'Add to cart' button which is why this button needs to be prominent and the dominant one. In regard to this, make the button large enough that one could see it instantly but not so big that it covers large space. Also, use contrasting colors that complement your site's background and the surrounding text.
Ensure Security
Security is the biggest concern when it comes to shopping online. Some people might not shop due to security issues. You will have to build trust for your customers to be eager to add their credit card information on your site. So, it is important to make people satisfied with your site's security. You can do this mainly by getting the SSL Certificate and by displaying some trusted security badges on your site. Also, you can include images of credit cards, PayPal or other security options as an indication of the customer trusted payment options.
Insert Customer Reviews & Ratings
According to research, 85% of the people read online reviews before making a purchase. This means that a lot of people judge a product through the reviews and make a decision whether to buy the product or not. Some businesses might not include this for the fear of bad reviews but that can prove to be beneficial only if they are handled with prior thought. Whenever there comes a bad review, just make sure to the customers that you can handle that inconvenience soon and that you will be going to address their issue as soon as possible. This way your customers will understand the professionalism of your handling the inconveniences. So, it is important to add reviews and ratings of the product so that your conversion rate go high up.
Optimize Your Design for Mobile Phones
In this era, every other person is seen using mobile phones. So, why don't optimizing the design for mobile? More and more people tend to shop through their mobile phones. So, in order to capture more and more leads, one must opt to make a responsive design. This will not only increase the conversion rate but can also increase its search engine ranking.
Offer Free Shipping
The most powerfully effective shipping for e-commerce is nonetheless free and fast. Consumers usually tend to shop from those stores who offer free shipping with the mindset that it will save their costs. But, obviously, you have to balance out the cost of free shipping with the product price. Applying this strategy to your business will prominently drive up your conversion rates as people are more inclined and attracted to those stores offering free shipping.
Recommend Other Related Products
Another great and effective way to increase your sales is by suggesting related products to the consumers. It is also called cross-selling. Your customers might like the recommended products you offer that can result in purchasing more products thus increasing your sales.
Let's have a look at the best product pages 2019: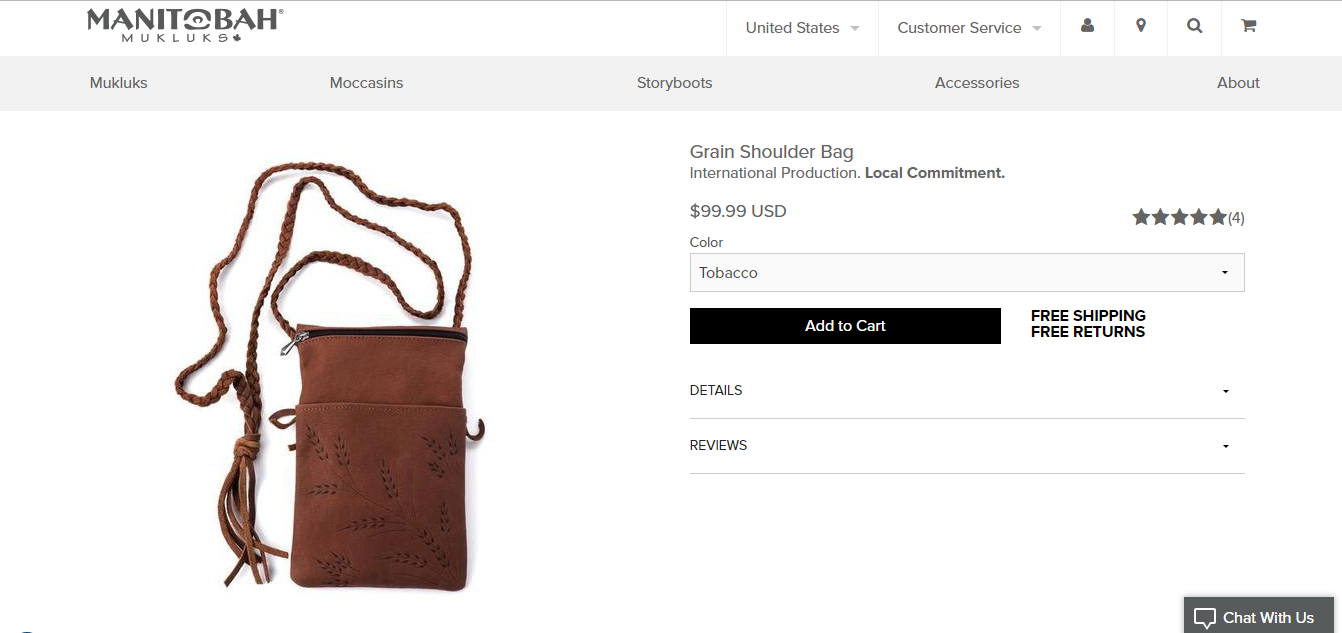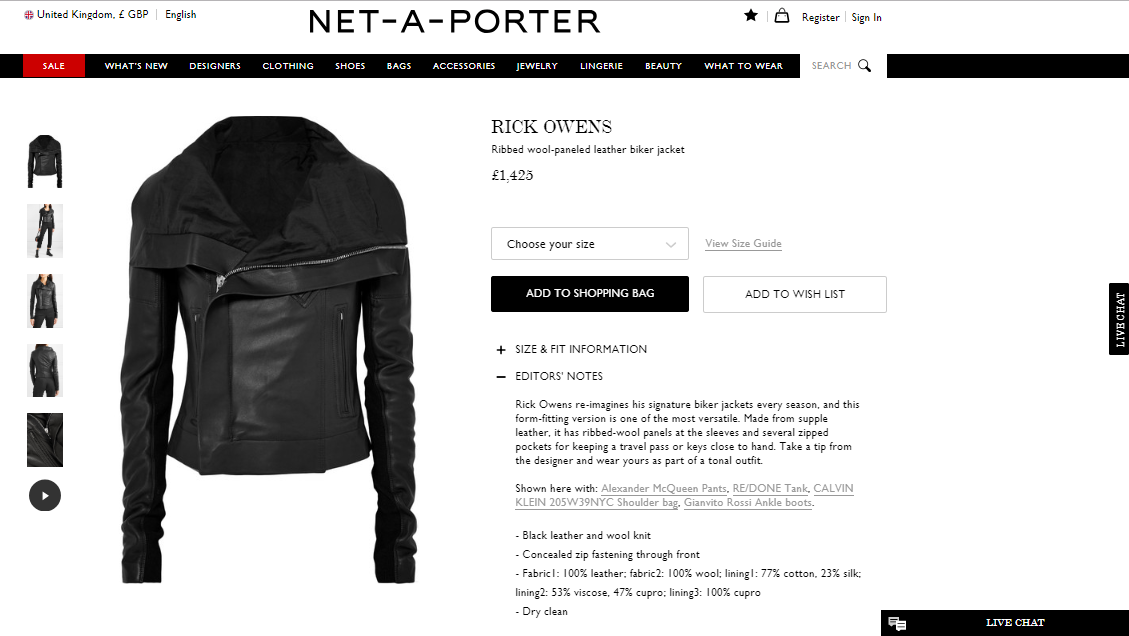 Leesa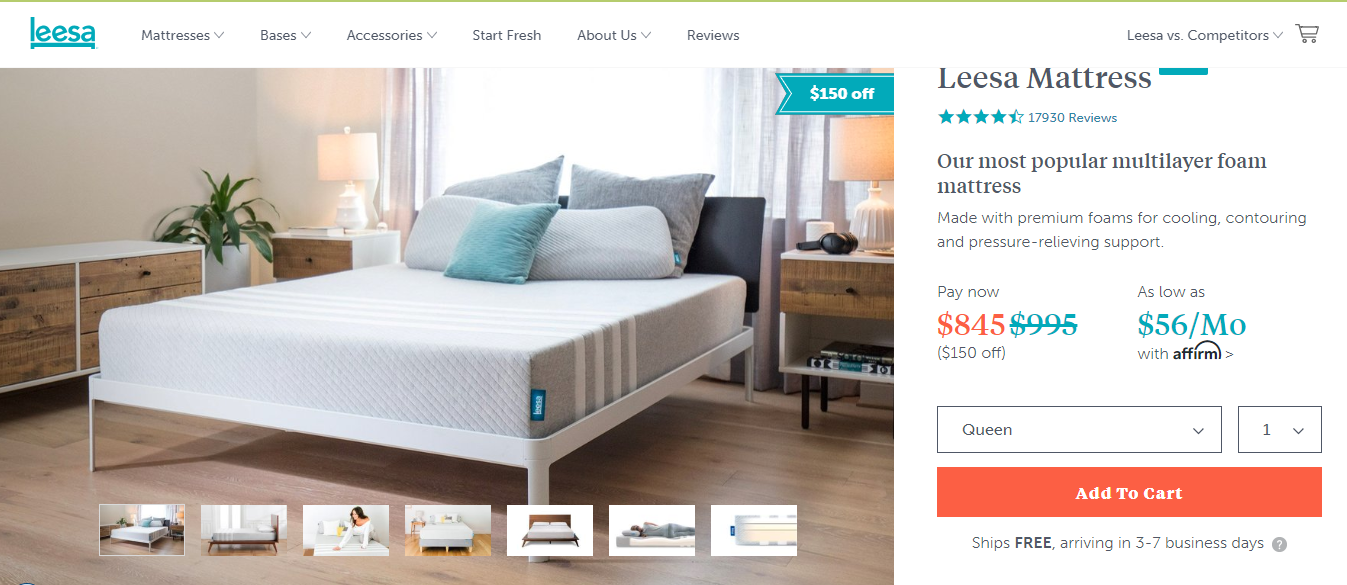 Kitchen Warehouse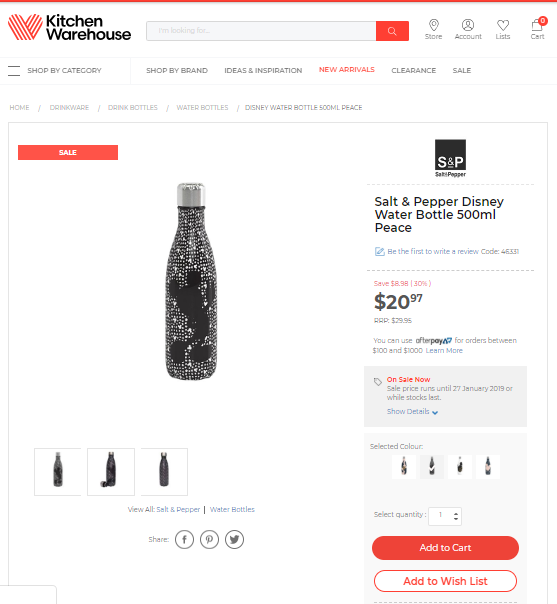 Luxy Hair
Wrapping it Up
As an E-commerce store owner, you must know which platform fits best for your business and if you are unsure of this then read our blogs to get to know the best platform for your E-Commerce business. Also, you should not overlook the design details and must approve your every page design especially product details page template before publishing it. Product details page is the most important page of an E-Commerce store because this is where your conversions drive up through sales. After getting to know the elements that a perfect product page includes, you should now implement these if you are missing out something on your product page.