Gohar Aslam

App Development

13 November, 2023
How to create an Investment App? A Complete Guide For Entrepreneurs
Why should every entrepreneur consider to create an investment app? The investment app industry is in full bloom. Although the COVID-19 pandemic wreaked havoc on the travel, automobile, retail, and restaurant industries, contrarily, some industries recovered instantaneously and bloomed during the pandemic. One such industry that thrived during the pandemic is the investment app industry. New technologies have made the investment process more accessible and cost-effective while providing seamless access to the stock market.
Any discussion related to create an investment app would be incomplete without underscoring the success of the Robinhood app, which has profound significance for the stock market. The app promotes commission-free and simplified investments, witnessing remarkable success and managing to attract over 18 million active users. Other popular investment apps making the strides include Betterment, Vanguard, Charles Schwab, and Acorns. 
Whether you are a startup or own a large enterprise, the time is ripe for developing and launching an investment app. Undoubtedly, the competition is extremely tough, but that should not deter you. If your app is robust, feature-rich, and user-friendly and targets the niche market, there are fruitful prospects for its success.
If you are mulling over how to create an investment app, don't worry; we have got you covered. In this article, we will evaluate the key steps involved in developing an investment app.
Features of an investment app
Here is a list of some basic features used in investment apps.
1. Intuitive interface
An investment app must have a user-friendly interface that helps users navigate smoothly and find information quickly to make better investment decisions. 
2. Registration
A registration feature in an investment app will include creating a new user account. You should consider these key elements before implementing a registration feature. These features include user verification, regulation compliance, privacy policy, and security. 
3. Personal accounts
Personal profile act as investment portfolios for the users. Through their profiles, users can make investments, keep track of their assets, check account balances, and know about the profits they have earned.
4. Financial transactions
An investment app must be connected with a payment gateway to allow the seamless processing of online financial transactions. Additionally, users can link their bank accounts with the app to make secure transactions, including deposits and withdrawals. 
5. Newsfeed
A news feed option in an investment app can provide users with valuable information and insights into the latest developments in the financial markets. Users can stay updated on market news, identify new investment opportunities, and, most importantly, help the users make informed investment decisions.
6. Investment options
Investment apps offer various investment options to users, such as stocks, bonds, mutual funds, exchange-traded funds (ETFs), and more.
7. Real-time analytics and data
This feature is also crucial as it allows users to monitor essential information to understand market trends and identify them. The information relates to market trends, historical data, user earnings, and financial news. This data is presented in charts, graphs, and other visualizations. 
8. Chatbot
Chatbot is an indispensable feature in an investment app, owing to its numerous benefits. It can offer personalized investment advice, simplify arcane financial methods, offers customer support, and is available 24/7.
9. Push notifications
Push notifications are significant as they can inform users about critical information in real time. Users can receive notifications about market alerts such as a sharp rise or drop in stocks or indices. Users can receive news updates about information impacting investments, such as government policy. Likewise, users can be notified about withdrawals or deposits.
10. Customer support
A customer support feature is essential for investment apps. Usually, customer support offers assistance through email, phone, or chat to facilitate users with any questions or issues.
Why are investment apps popular?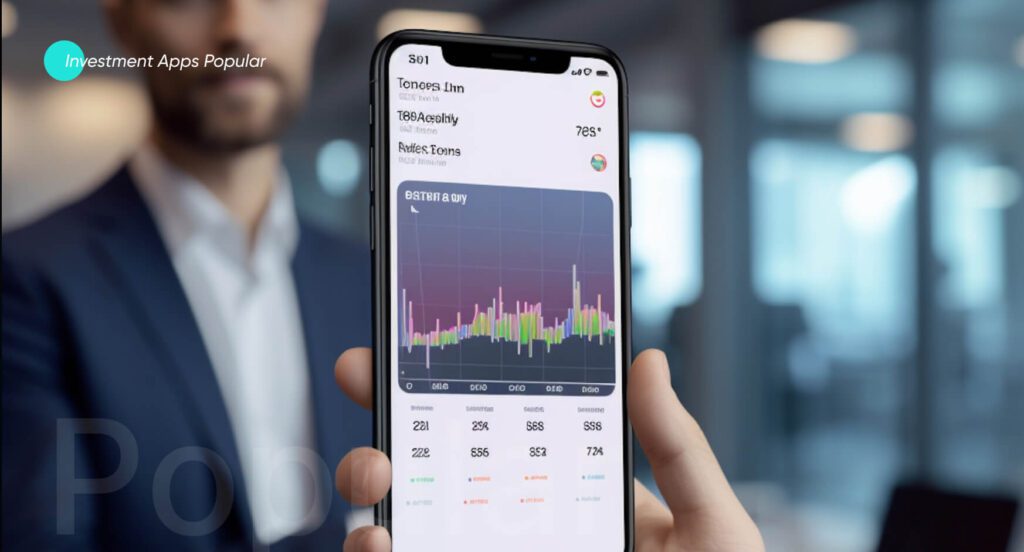 Why should you create an investment app? The following are some primary reasons investment apps are so popular with users.
1. Easy access:
Anyone with a smartphone and internet connection can easily access an investment app. Users can log in and invest from anywhere, anytime, without visiting a broker. 
2. Low or no cost:
Investment apps often have lower fees and commissions than conventional brokers or financial advisors, which makes it more affordable for users to invest their money.
3. Low requirements:
If you open an account with a broker, you will still require a minimum deposit. However, you can open an account with minimum investment through many investment apps.
4. Diversification:
Investment apps offer diversified investment options, including stocks, bonds, ETFs, and mutual funds, enabling users to expand their investment portfolios and potentially minimize the risks.
5. Greater control:
Investment apps give users greater control over their investments, give them better decision-making power, and allow them to buy and sell stocks as they deem fit.
6. Real-time market data:
Users have access to real-time market data and news through investment apps. It allows users to advance their knowledge of the latest developments and make informed investment decisions.
7. Mechanized investing :
Some investment apps offer automated investing options, which use algorithms to invest users' money based on their preferences and risk tolerance. It can be easier for users who want to adopt a passive approach to investment. 
8. Education and resources:
Investment apps also offer incredible learning resources through articles, tutorials, and videos to assist users in making enlightened investment decisions.
9. Safety:
Investment apps have stringent security measures to protect users' personal and financial information. These measures safeguard users against cybersecurity hacks and provide them with mental satisfaction.
Types of investment apps
Before you create an investment app, it is vital to decide which type you would like to choose.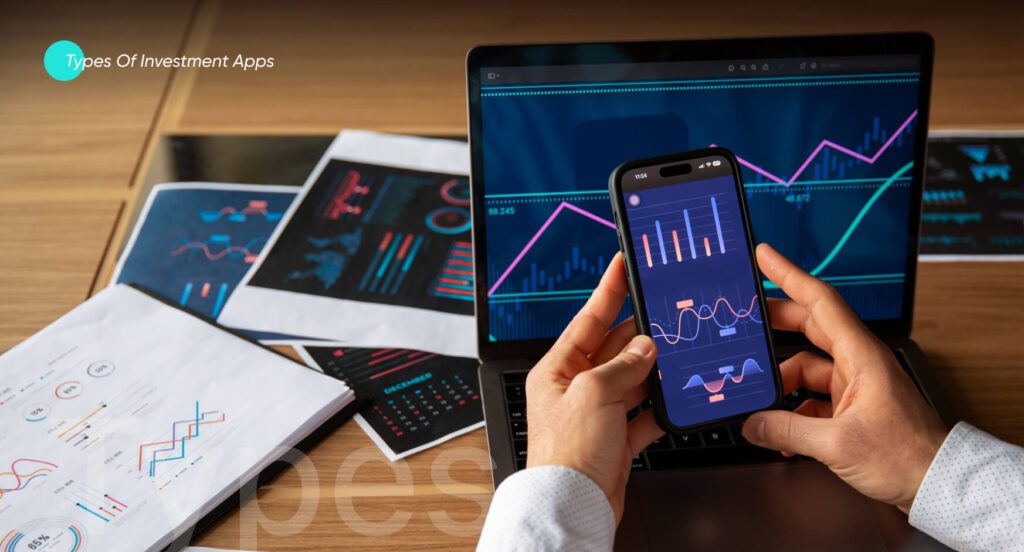 1. Investing/Advisory apps:
Investing apps are known for offering advisory services. They are a vital link between investors and brokers, providing users with real-time market data and tools to augment the investment process. Examples: Acorns, Invstr, Betterment
2. Banking apps:
Mobile banking apps enable users to have access to their bank accounts and allow them to conduct financial transactions. Some of these apps also provide users with investment opportunities. Examples: Chase, Bank of America, Wells Fargo
3. Exchange-traded fund apps:
The exchange-traded fund app lets investors buy and sell stocks through smartphones or tablets. ETF apps provide investors a convenient means to invest in various assets, such as stocks, bonds, and commodities. Examples: Robinhood, Vanguard, Stockpile
The development process for creating an investing app
If you want to create an investment app it is a multi-stage process, so you should carefully consider the following key steps.
1. Market research
You can start by conducting market research, providing you with essential cues. It will enable you to know about your target audience, who your competitors are, what features your investment app requires, which pricing model your app will use, what regulations your app needs to comply with, and which adequate marketing strategies you should use for your app.
2. Set objectives
After conducting market research, you should set clear goals regarding investment app development. Typically, these goals include user acquisition, engagement, revenue generation, and customer satisfaction. Ideally, your goals should align with SMART parameters, which will make your goals specific, measurable, achievable, relevant, and time-bound.
3. Development team
Hiring a development team for the investment app development process requires meticulous planning. The following steps can facilitate you in making an informed decision when hiring a development team. You should define your requirements, research various development teams, assess their capabilities and technical expertise, check their portfolio, evaluate their communication and project management abilities, and discuss the budget and timeframe for project completion. 
4. Design Process
Designing an investment app requires a comprehensive understanding of your target audience and their investment goals and careful attention to security, performance, and user experience. Your designers should strive to develop a user-friendly and appealing UI and UX for the app that meets users' needs and helps them achieve their investment objectives.
5. Development
It is the critical stage of the app development process. Here, you select the technology stack and begin the actual procedure. The development team comprising developers and engineers will develop the frontend, backend, and APIs, focusing on the app's architecture, coding, and required integrations. 
6. Testing and launch
Once the development is complete, it's time to conduct rigorous testing to ensure the app is free of bugs and functions smoothly. The last step is the launch of your app. After meticulous testing, the app can be launched on the App Store or Google Play Store.
How do you monetize an investment app?
There are several monetization strategies for an investment app. The monetization strategy will depend on the investment app's specific features and target market. It's essential to carefully consider the pros and cons of each monetization model and adopt the one that advances your business goals.
1. Subscription model:
One way to monetize investment apps is through a subscription model. Users pay a recurring fee to access premium features such as advanced analytics, real-time market data, and personalized investment recommendations.
2. Commission-based model:
Another popular way to monetize investment apps is through a commission-based model. The app charges users a fee for each trade or transaction they make on the platform, and it can be a flat fee or a percentage of the transaction value.
3. Affiliate marketing:
Some investment apps can collaborate with finance and brokerage firms to offer users access to their services. In return, the app earns a commission for each user who signs up for a new account.
4. Advertising:
Investment apps can also generate revenue through advertising. App owners can showcase the ads of financial institutions and other companies on their app in return for a commission or a fee, and the app can use these target ads for specific user groups. 
5. White labeling:
White labeling is a common strategy where one company creates products and services while the other rebrands them. Investment apps can also generate revenue by licensing their technology to other financial companies or brokers, and these companies can rebrand this technology for their investment apps.
What is the technology stack for an investment app?
If your goal is to create an investment app: A user-friendly & scalable  , then you must ensure the appropriate selection of a well-designed tech stack. The following list contains the most commonly used technology stack for investment app development.
Backend
Programming language: Java, Python, Node.js
Frameworks: Spring Boot, Django, Express.js
Database: MySQL, PostgreSQL, MongoDB
APIs: RESTful APIs, GraphQL APIs
Frontend
Programming language: JavaScript, TypeScript
Frameworks: React.js, Vue.js, Angular.js
Styling libraries: Bootstrap, Material UI, Tailwind CSS
User Authentication: User authentication is a critical component of an investment app, and it would require the use of secure technologies:
Authentication protocols: OAuth 2.0, OpenID Connect
Libraries: Passport.js, Okta, Auth0
Payment Processing
Investment Analysis
Data analysis frameworks: Python Pandas, NumPy, Scikit-learn
Data visualization libraries: Matplotlib, Seaborn, Plotly
Cloud Infrastructure
Cloud infrastructure: AWS, Azure, Google Cloud Platform
Serverless architecture: AWS Lambda, Azure Functions, Google Cloud Functions
Containerization: Docker, Kubernetes
Leverage our quality development services to create an investment app. Contact us!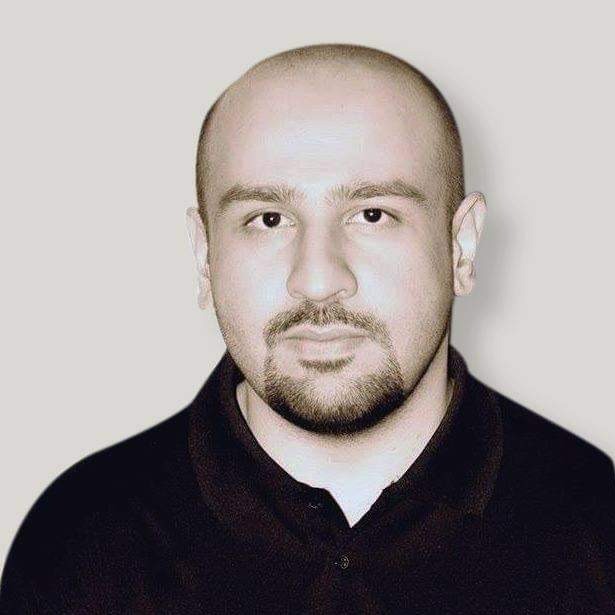 Gohar is a seasoned IT writer specializing in leading technologies. He holds a Bachelor's degree from the University of London, with professional experience spanning over five years in the IT sector. His expertise involves a keen focus on mobile applications, web apps, blockchain, content management systems, e-commerce, and fintech. Beyond the professional field, Gohar is an avid reader and reads extensively about emerging and innovative technologies.