Fitness Mobile App Development Company
Fitness App Developers – Your Next Fitness App Design, Development & Tech Partner! Looking for the best fitness app development company? Coding Pixel team has developed 100+ fitness apps, exercise apps, diet planner app, fitness tracker apps, mobile apps for gyms, mobile apps for personal fitness trainers and more. Contact Us! People are […]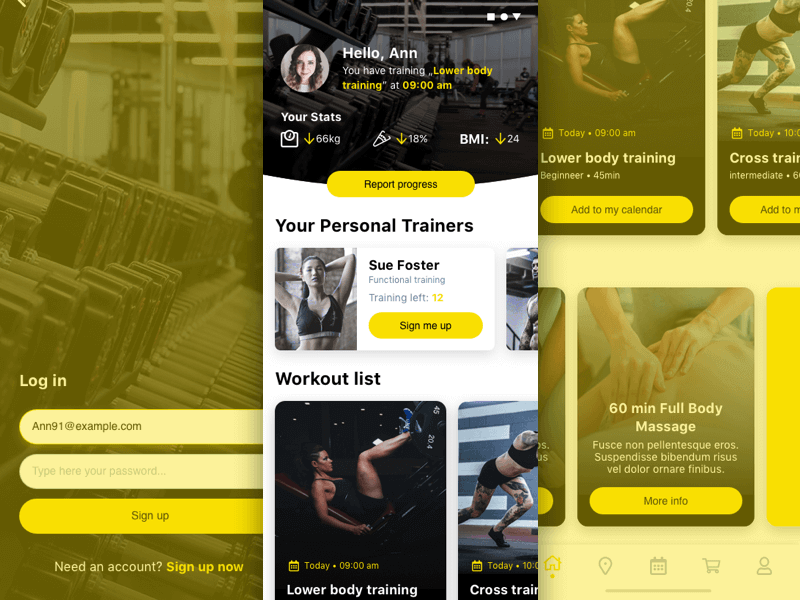 Fitness App Developers – Your Next Fitness App Design, Development & Tech Partner!
Looking for the best fitness app development company? Coding Pixel team has developed 100+ fitness apps, exercise apps, diet planner app, fitness tracker apps, mobile apps for gyms, mobile apps for personal fitness trainers and more. Contact Us!
People are always willing to try work towards a healthy life and since the use of smartphones is increasing, they are looking for solutions in them. Hundreds of thousands of mobile apps are available in the app store in the 'health and fitness' category to make their life more comfortable and healthier; because of those users, many people are willing to develop those apps. If you are one of those people with app ideas and want help from someone else to achieve it, given below is the top fitness app development company.
Coding Pixel:
The fitness apps developed by Coding Pixel are innovative, flawless user-friendly and user-centric. They invest a huge amount of their work labor into every app they develop so the app work well, look good, saves time and helps attract more customers. Whether it's a Workout and exercise apps, Fitness tracking apps, Nutrition or diet apps, etc the quality is unquestionable, our team makes sure our clients get the exact app they asked for at the most flexible rates possible.
Doesn't matter if you are a Gym Owner, Yoga Guru, Personal Trainer or Dietitian and wants to switch your services to the digital world by creating an app, Our fitness app development is the right choice for you. Our skilled team of developers, designers, and business analysts can develop full blown fitness apps. Our fitness apps are highly customization, A few of the many types of app we have develop in the past include Fitness Tracking App, Fitness Web Apps, App of Yoga Centers, Apps & Websites for Diet & Nutrition Centers, Personal Trainers Web Apps, and Workout Apps. If your app idea is similar to these or totally different, talk to us and get the details.
Fitness App Development Types & Trends
Workout & Exercise Apps:
For both beginners who may be uncertain about how to organise their workouts and swollen beasts who need to stick to a strict schedule, workout fitness apps are massively common. On the market, there are a lot of great fitness apps, but a few are extremely inspiring and easy to use. The 7 Minute Fitness app from Johnson & Johnson allows users to fit fast workouts into their hectic schedules. The app has lengthy exercises, but for busy individuals it provides the best, in brief, guided workouts.
Fit Radio, on the other hand, offers the exercise with music as the basis of structure. This app generates a playlist of songs that, for a rhythmic exercise such as running or biking, all sustain a steady tempo. We really love the Fitplan app that offers you to pick and actually work out with a number of popular athletes and fitness figures. Fitplan will do the trick for you, whether you have a clear purpose (working on those glutes) or just want a plan to follow everyday.
Fitness Tracking Apps:
An easy but significant first step in fitness is to keep track of consumed calories. Fitness apps for calorie counting rely on the user's honest feedback, but offer useful details in return, such as nutrient breakdowns and calorie targets. MyFitnessPal is a great calorie-counter for easy input, with a bar code scanning feature. For more precise calorie targets, this software also helps monitor exercise either manually or with fitness trackers.
Fitness-tracking apps allow your mobile phone or connected computer to monitor your physical activity and provide detailed data about your workout, such as steps taken, distance travelled, and speed maintained. Clean, easy-to-use tools for fitness monitoring are the Fitbit, Nokia Wellness, Jawbone UP and Moves apps.
Apps for activity monitoring and calorie counting may usually be set to give reminders of exercise and tracking targets to the consumer. To get some people excited, a motivational nudge from your smartphone is enough. More engaging fitness applications are available to inspire, promote, and empower those who are less enthusiastic!
Social Fitness Apps:
Not inspired yet? Apps for social health are a great motivator for successful users of social media. Social fitness apps enables people to share their fitness progress with friends, family, as well as with other users.  Some social fitness apps, such as inKin, allow users to interact with individuals on other fitness apps and devices that are typically not compatible with each other. Users can also produce competitions and challenges that can be integrated across platforms for fitness devices. We all like to share our aims and milestones in today's social media dominated world. Apps for social fitness do exactly that.
Altruistic Fitness Apps:
If you are not satisfied with the charity you currently do then, you can use your workout to donate to a good cause with applications like Charity Miles.  These applications track your bike rides and runs, enabling corporate sponsors to donate on your behalf to the charity of your choosing for each mile you complete. Not many things are more inspiring than the chance to help a charitable movement that means something to you.
Competative Fitness Apps:
If it is not enough to simply share your fitness data to get you going, it is time to start taking things to the next level with competitive apps. Some competitive apps directly connect users with their mates, while others offer competitive encouragement that is more anonymous. Strava is a running and biking app that allows users to race on specific routes against each other for the fastest time.
So there you have it folks!