cpadminuser

Website Development

8 November, 2023
Benefits of Having Friendly Mobile Website For Business
A mobile-optimized or mobile-friendly site is designed specifically for display on devices such as smartphones and tablets. Friendly sites are designed to be easy to read and navigate on small screens and often have a simpler layout and fewer features than the desktop version of the site. A mobile site for business must display features: responsive page display, reader-friendly fonts, accurate text formatting, and an optimized media display. The responsive sites are important for a business because more and more people are using smart devices to access the internet, and a website that is not optimized for mobile devices can be difficult or impossible to use on those devices.
In the Digital Age, it is indispensable for businesses to have responsive sites over apps. You may wonder why. Mobile websites increase your business reach, improve customer experience, increase engagement, promote greater conversion rates, and ensure better search engine rankings. Statistics indicate that M-Commerce sales are projected to exceed $430 billion in 2022 and $710 billion in 2023. The conversion rate of online shoppers is still higher for desktops (3.9%) than mobiles (3.5%). The average order value on a desktop is $50 higher than on smartphones. Therefore, businesses must reckon with the significance of responsive sites, and take effective steps to develop responsive sites.
Lets Discuss Five Major Advantages of Mobile Site For Business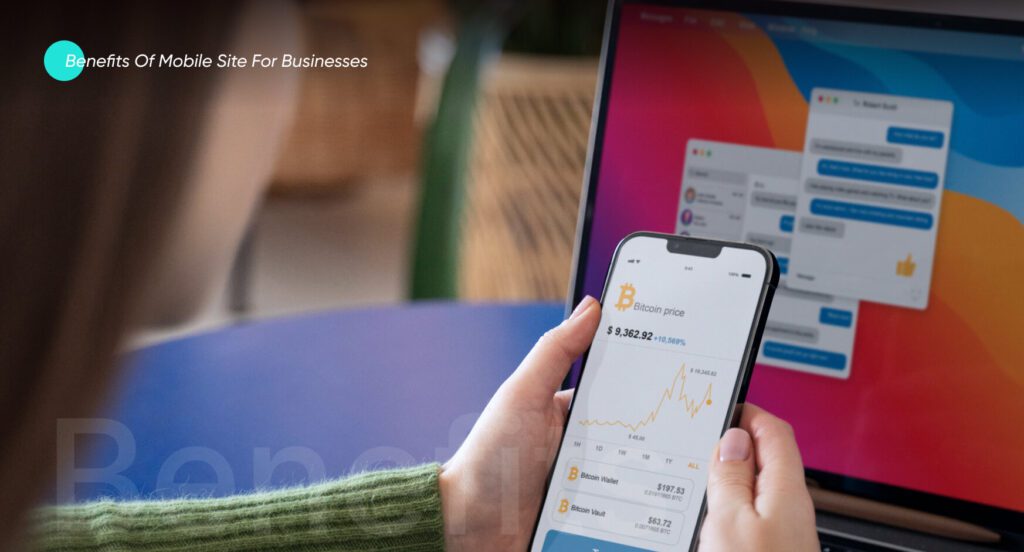 1. Increased Traffic
A mobile-friendly website also leads to increased traffic as more and more users access the internet on their smartphone devices. Google and other search engines have clarified that they prioritize responsive sites in their search results. If your site is not optimized for smartphones, it may be difficult for users to find it when searching on their smartphones.
Likewise, you can also improve your site's visibility in search engine results and drive more traffic. Moreover, many phone users rely on social media and messaging apps to share content with friends and family. If your site is optimized for smartphones, it may be easier for these users to share your content. By making it easy for users to share your content on their devices, you can increase your site's visibility and drive more traffic.
A mobile-optimized site loads faster, is easy to navigate, and is easy to read on a small screen. This can help to improve user engagement and reduce the bounce rate. Visitors will spend more time on the website, leading to better engagement that can lead to the visitor becoming a customer.
Similarly, optimizing your website responsively for local search can help drive more traffic from users searching for businesses in your area. You can improve your visibility in local search results by including your business's address and contact information on your responsive site and including keywords relevant to your location.
Overall, to increase traffic to a mobile website for business, you need to ensure that it is easy to find, easy to use, and provides a great user experience. By following best practices for mobile optimization, you can improve your site's visibility, make it more shareable, and encourage users to come back.
2. Mobile users spend more.
Mobile users can be a valuable source of revenue for businesses because they are more likely to make purchases on the go, take advantage of personalized recommendations and discounts, and can easily make payments. By optimizing your mobile website for business, you can tap into this growing market and increase your revenue.
Smartphones make it easy for users to make purchases on the go, browse products, compare prices, and make a purchase in just a few taps. This can make it more likely that a user will make a purchase when they are ready to buy, rather than waiting until they are back at their computer.
Many mobile apps and websites use data such as browsing history, location and search history to personalize the user experience. It can make it more likely that a user will find products they are interested in and are more likely to buy. Furthermore, with the growth in mobile payments, it's become more accessible for users to make purchases on their phones without entering much personal and payment information. It can make the buying process faster and more convenient for users, leading to more purchases.
Businesses with physical locations can use location-based services, such as geofencing, to notify nearby users about sales, promotions, or other offers. This can be a powerful way to drive foot traffic and sales. It's worth noting that sales of mobile site for business are growing every year, and it's predicted that m-commerce will outgrow e-commerce in the next few years. Therefore, ensuring that the responsive website provides a positive user experience and is optimized for transactions is crucial.
3. Google favors mobile-responsive sites
Google has stated that it favors responsive mobile sites in its search results. If a website is optimized for mobile devices, it is more likely to rank higher in Google's search results than a website not optimized for phones.
Because an increasing number of users access the internet on their mobile devices, Google wants to ensure that these users have a positive experience when searching for information. Mobile-responsive websites are designed to automatically adjust their layout and functionality to suit a particular device's screen size and capabilities, providing a better user experience on smaller screens.
Google uses mobile-first indexing, which means that the responsive version of your site will be used to index and rank your pages. Google crawls your website as a mobile user would. Therefore, having a responsive site will ensure that your website appears correctly in Google's search results and provide a better user experience.
4. Better user experience
A mobile-friendly website can offer a better user experience because it is designed to adjust its layout and functionality automatically to suit the smaller screens and touch-based input of mobile devices.
You can ensure a better user experience by optimizing the website's layout to make it easier to read and navigate on smaller screens and pushing buttons and links larger and easier to tap on with your fingers. Similarly, you can enable touch-based interactions such as swiping and tapping and reduce the amount of data that needs to be downloaded to the device to improve load times. Finally, you can change the website design to suit better the capabilities and screen sizes of different mobile devices.
All these modifications ensure that the users can easily access the information they are searching and the site will be more navigable, faster, and less frustrating to use. It can improve the user experience by making it easier for users to navigate and find the information they're looking for on a mobile device.
5. Competitive edge
Having a responsive mobile website for business can give a competitive edge in today's market. As more and more people use smartphones and other devices to browse the internet, it's become increasingly important for companies to ensure that their websites are optimized for mobile viewing.
A friendly website offers several advantages. First, it ensures that users can easily access and navigate the website on their mobile devices, increasing engagement and conversion rates. This is especially important for e-commerce sites, as it lets customers purchase products and services directly from their smart-phones.
Additionally, a responsive website can improve a business's search engine rankings, as search engines like Google prefer responsive websites in their search results. It can lead to more visibility and more traffic to the website.
Moreover, a mobile-friendly site can create a better user experience for customers, which can help the company to increase customer retention, repeat purchase, and brand loyalty.
We can help you build a flawless responsive website. Book a free session now!

FAQs
How does a mobile-friendly website help your business?
A responsive website can help your business in several ways, such as improving user experience, boosting SEO, increasing conversions, staying competitive, and using mobile-specific functionality.
 How important is it for a business to have a mobile site?
A website is crucial for business because smartphone usage is rising. Google prioritizes responsive sites for indexing and ranking, giving them a competitive edge and offering a better user experience.
 What is one of the significant benefits of a mobile website over an app?
Mobile website for business can be a more accessible and cost-effective solution if you want to reach a broad audience across multiple platforms. However, it is essential to note that an app can provide additional features and a more tailored experience than a website. It depends on the specific use case and the goal of the business.