Online Marketplace Development Company
If you are looking for the best online marketplace development company then you are at the right place. As you know average user takes about 0.05 seconds to form an opinion about a website after looking at it, online marketplace website design and development if done right provides the opportunity to have a website that […]
Author
Paul Blake
We can help you! ❤️ CodingPixel
Seeking expert advice or consultation for your mobile app or website idea? or looking to revamping your existing app or website?
Schedule A Free Consultation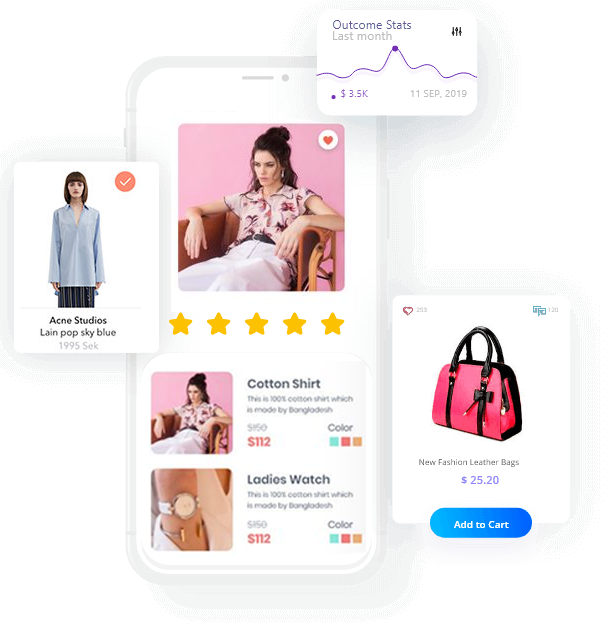 If you are looking for the best online marketplace development company then you are at the right place. As you know average user takes about 0.05 seconds to form an opinion about a website after looking at it, online marketplace website design and development if done right provides the opportunity to have a website that engages traffic is intuitive, functional, and is aesthetic to look at. The coding pixel team has been developing online marketplace websites for many years now, you can get in touch with online marketplace developers to discuss your idea.
Many leading online stores often turn to an operating model that aggregates offers from other sellers on their website, seeking to broaden their product selection and market reach. We may call marketplaces the next stage of growth of major e-commerce ventures because many leading online stores frequently switch to an operating model that aggregates offers from other sellers on their site, aiming to expand the product range and market reach. Among the most well-known websites of this kind are eBay, AliExpress, Etsy, and others.
Marketplace Categories:
Business-to-Business (B2B)
Business-to-Customer (B2C)
Consumer to Consumer (C2C)
Peer to Peer (P2P)
Marketplace Features:
Before starting to develop an online marketplace you have to get acquainted with major features. The major features of the online marketplace include:
Authorization and Security 
Vendors Registration
User profiles
Manage listings
Booking/Order
Payment Gateway
Filters
Notifications
Shopping Cart
Search
Reviews & Ratings
Social Media Icon
Online support portal
Marketplace Types:
On-Demand Marketplace
Community Marketplace
Products Marketplace
Services Marketplace
B2B/B2C Ecommerce Marketplace
SaaS Marketplace
Projects Marketplace
Decentralized Marketplace
Technology Stack:
Front-end: Angular, ReactJS, Vue;
Back-end: Node.js, Express.js, PHP, Laravel, Lumen, OctoberCMS;
Full-stack: MEAN stack, LAMP stack;
Database technology and tools: MySQL, Redis, NoSQL, MongoDB, PostgreSQL;
Languages & peripherals: JS ES6+, PHP 5-7, HTML 5, CSS, jQuery, REST API, Ajax;
Servers & Cloud computing services: Apache, Nginx, Microsoft Azure, Amazon AWS, Salesforce
Online Marketplace Development Team:
Following resources work on online marketplace development projects, a Team of specialists will be working on your marketplace development projects. As the size of an online marketplace development team depends on the complexity and scale of a project, The minimum resources need for any size of online marketplace development will be:
1 Project manager / Product manager
1 Graphic Designer
1 UI/UX designer / Frontend developer
1 iOS developer / 1 Android developer
2 Backend developers
1 quality assurance engineer
Why Us?
Coding pixel is a full-stack online marketplace development company located in the USA, one of our many expertise lies in the development of the custom marketplace for our clients whether you want to build a marketplace from scratch, modify the one you already have, or want advice and consultancy regarding your marketplace business idea we're the right fit for you.
The different marketplace type development work we did include business to business, customer to customer, business to customer, multi-vendor marketplace. The Marketplace development services by Coding Pixel are trusted by more than 600 customers worldwide. We bring the simplest solution to your marketplace development problems, whether your idea includes the development of an eCommerce marketplace, service marketplace, or recruitment marketplace we've got you all covered. Our team consists of senior developers who're experts in what they do.
Contact Us