Website Development Company Los Angeles (LA), Hire Top Website Developers, Website Designers & Website Programmers in Los Angeles, Best Website Development Company LA.
Website development company in Los Angeles known for sheer perfection in custom website design and development. Our website designers and developers develop enterprise-level websites for businesses in Los Angeles. We have been helping Los Angeles based companies and established global brands with website designs that help them stand out from the rest.
Supported by profound technical knowledge and creativity. Our website development team in Los Angeles with international team is available to work on your project without a hefty price tag.
Technologies:
As a full-stack web development company in Los Angeles, the expertise of our web designing team lies in both the front end website development and the back end website development.
For the front end development: our expertise are in HTML5, CSS3, Bootstrap, JavaScript, we use the popular JavaScript libraries, Angular js, Laravel, React, Vue. Whereas, for the back end development we are a team of experts in PHP and ASP.NET. Our experience with PHP and ASP.NET is a decade old. We have been making websites in PHP and Asp.net since Microsoft launch .NET. When it comes to CMS development, we have experience in many content management systems, which include WordPress, Shopify, Open cart, Drupal & more.
OUR WEBSITE DESIGN PROCESS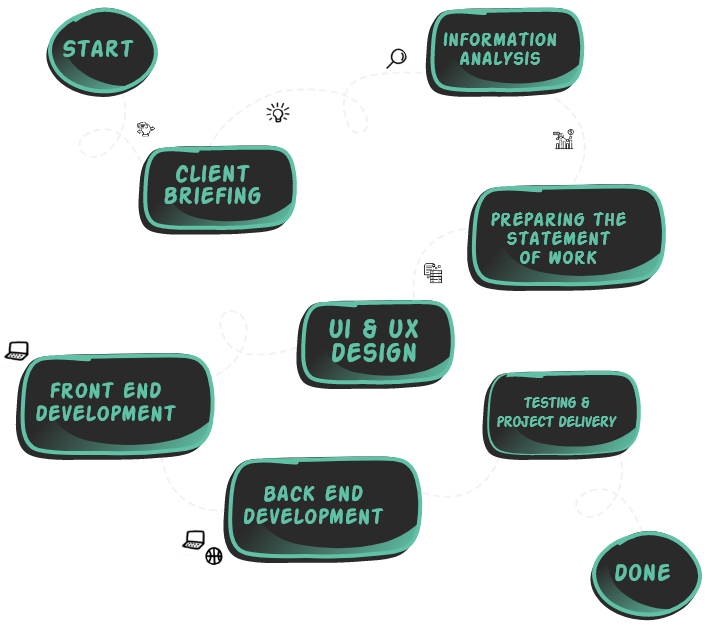 We take great care in realizing the client's ideal website design for their websites. Our website developers acknowledge the importance of website design in generating revenue, and optimizing the convenience for the user or the employee while handling the website. The website design process includes the creation of various headers, choosing a contrast of colors for the page, setting CTAs, creating chatboxes, etc. The main purpose of this is to turn the website into an online reflection of the company itself. Our Los Angeles based website designers place primary importance on website design from creating the easy navigation system on your website pages to choosing the right color for your website layout. Now, the website design process might be short or lengthy depending upon your complexities regarding your needs from an online page. We deal in small businesses, big enterprises, and Start-up's website designs.
What do our Los Angeles website developers do?
Our web developers analyze the user needs, so the proper criteria of the owner's demand and user needs could be met in web development. Our web developers realize your idea into a reality while ensuring the proper content, graphics, and underlying structure are used. Our team has the years-long expertise in developing the website from scratch, correcting issues which are left uncovered by user feedback or testing, converting graphic, video, audios, and other formats to compatible and best web format. We have a team of senior developers such as front-end developers, back-end developers, user experience (UX) designers, user interface (UI) developers, full stack developers.
Our web developers Los Angeles are skilled in JavaScript, HTML5, Java, jQuery, SQL, AngularJS, CSS.
A minor mistake can break the whole of the website. So, our web developers are trained in such a way, that they make sure to employ their art of perfection in each of the projects they take from the clients.
Everyone wants a website! Everyone needs website developers, who are extremely understanding of the beginner's ideas and they mainly want to rely on developers, who would actually lay out a physical map for the website development, out of the client's ideas. Our website developers Los Angeles, owing to their experience in the field, have dealt with many clients in the past. With that said, our developers actually understand how to convert the client's idea into an exact reality.
Our Frontend Development Expertise:
HTML/CSS, JavaScript, jQuery, JavaScript Frameworks, Front End Frameworks, CSS  RESTful Services/APIs, Responsive/Mobile Design, Cross-Browser Development, Content Management Systems, Testing/Debugging, Git/Version Control.
These are some set of technologies, which are to be mastered by the front end developers.
Backend Development Expertise:
1) Developmental Languages: Java, Python, Ruby, Net
2) Database and Cache: MySQL, MongoDB, Oracle, SQLServer, Redis.
3) API: APIs or web services
4) Server: Apache, Nginx, IIS servers, Microsoft IIS.