Gohar Aslam

App Development

15 November, 2023
What are the Benefits of an E-commerce Mobile App?
E-commerce businesses generate revenue from selling products or services online. The e-commerce industry has become crucial for the economy because it allows businesses and customers to connect and trade online, overcoming the barriers of time, distance, and cost. As of early 2023, 2.14 billion people are shopping through e-commerce, with e-commerce sales expected to reach 5.11 trillion. Significantly, the e-commerce industry is constantly evolving and adapting to customers' changing needs and preferences and the technological innovations and trends that shape the online landscape. Nevertheless, an e-commerce store cannot reach its full potential solely through a website. Have you ever wondered about the benefits of an e-commerce mobile app?
If you want to achieve unprecedented heights for your business, creating a mobile app specifically for your e-commerce business is the remedy. Collaboratively, with a strong web presence, a mobile app can incredibly bolster your offerings, enhance your reach, and offer 24/7 accessibility. The article highlights the key benefits of an e-commerce mobile app for your business's sales, growth, and revenue. 
What are the different types of e-commerce apps?
E-commerce apps can be divided into several categories based on the type of transactions they conduct. Business-to-consumer (B2C) e-commerce involves selling products or services directly to consumers over the Internet, while Business-to-Business (B2B) e-commerce involves business transactions.
Consumer-to-consumer (C2C) e-commerce enables individuals to sell products or services to each other through online marketplaces. Consumer-to-business (C2B) e-commerce involves consumers selling their products or services to businesses.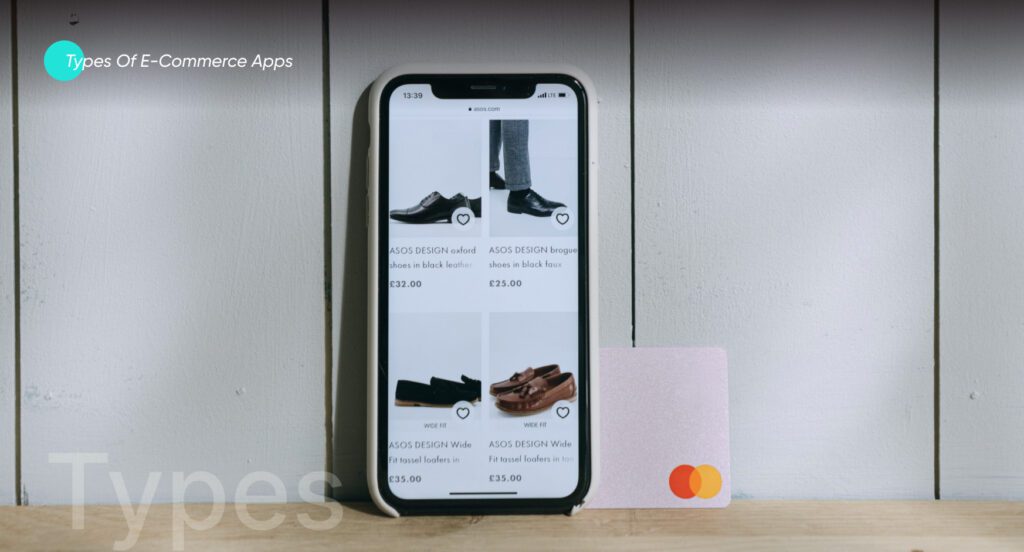 Finally, Mobile commerce (m-commerce) includes e-commerce transactions through mobile devices. Each type of e-commerce application has distinct features and advantages, and companies need to choose the adequate kind of app depending on their target customers and products.
Top 5 Benefits Of E-commerce App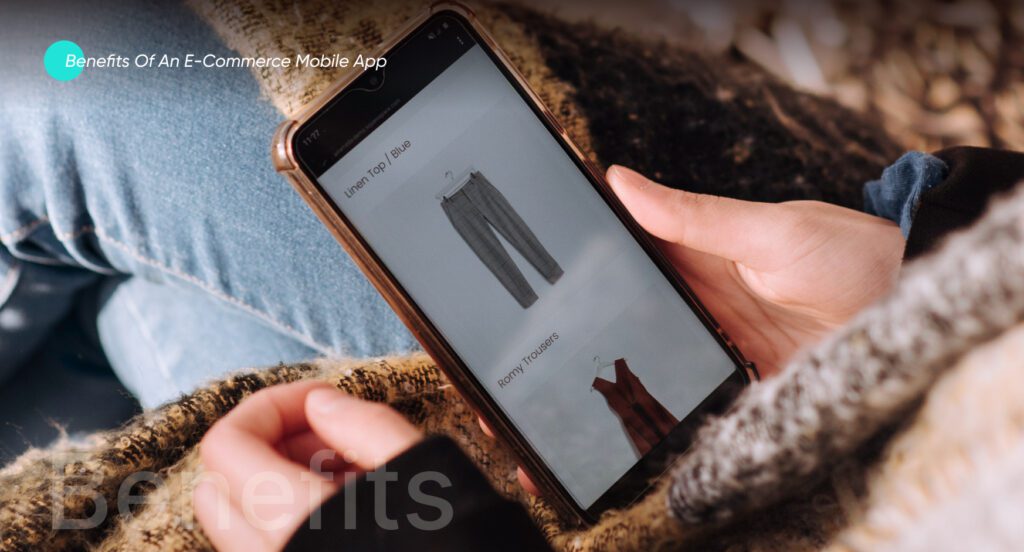 The following list highlights the five benefits of an e-commerce mobile app.
1. Brand Recognition
An e-commerce mobile app reinforces brand recognition. It is an excellent medium to showcase a company's products and services, offering users an exclusive and remarkable experience. Over time, user engagement with the app better acquaints them with the brand and its offerings. A mobile e-commerce app creates various opportunities for businesses to promote their brand through push notifications, one-to-one messaging, and loyalty programs. Hence, these strategies enhance customer engagement and also aid companies in building a loyal customer base. Moreover, a convenient and user-friendly app also motivates users to leave positive reviews and ratings for the app, leading to elevated brand recognition and customer acquisition.
2. Customer loyalty
Boosting customer loyalty is one of the major benefits of an e-commerce mobile app. A mobile app can offer a fantastic shopping experience, personalized recommendations, and exclusive deals and discounts. These strategies encourage customers to shop with your brand more often, increasing customer loyalty. E-commerce apps can utilize data such as browsing history, purchase history, and location to provide personalized recommendations to customers. Moreover, mobile e-commerce apps offer loyalty programs through points or discounts for frequent purchases and send push notifications to customers with exclusive deals, new product releases, and other relevant information. These strategies aim to stiffen customer loyalty and ensure the longevity of your e-commerce business. 
3. Analytics and reports
A mobile app for e-commerce is also crucial in providing analytics and reports to the app owner. The app allows you to track customer activity and acquire a better understanding of customer behavior, resulting in the creation of targeted marketing campaigns and sending personalized recommendations. Analytics and reports also assist business owners in making informed decisions about their business. They can identify which products sell the most, which marketing campaigns are successful, and which areas need improvement. Finally, through analytics and reports, owners comprehend customer behavior and consolidate strategies accordingly, enabling them to stay ahead of the competition. 
4. Effective marketing strategies
E-commerce mobile apps also prove to be decisive when it comes to the implementation of effective marketing strategies. These apps can empower businesses to improve their marketing strategies and drive business growth. An e-commerce mobile app can provide businesses with critical data relevant to customer behavior and preferences, which can be used to create targeted marketing campaigns. By providing a more personalized and convenient shopping experience, companies can build stronger customer relationships and create compelling and targeted marketing campaigns that resonate with their audience, leading to higher conversion rates and improved ROI.
5. Better customer experience
Businesses strive to offer better customer experience, and mobile e-commerce apps can be instrumental in helping companies achieve that goal. Mobile apps can provide customers the convenience of shopping anywhere at any time. Firstly, they can also personalize the shopping experience by providing customized recommendations and offers based on the customer's browsing and purchase history. Secondly, mobile e-commerce apps are typically faster than mobile websites, providing customers with a seamless shopping experience. Finally, mobile e-commerce apps are designed to provide a user-friendly interface and offer secure payment options. Mobile apps use these techniques to ensure a fantastic customer experience.
Partner with us to build a cutting-edge e-commerce mobile app. Connect with us.

Development Process Of E-commerce Mobile App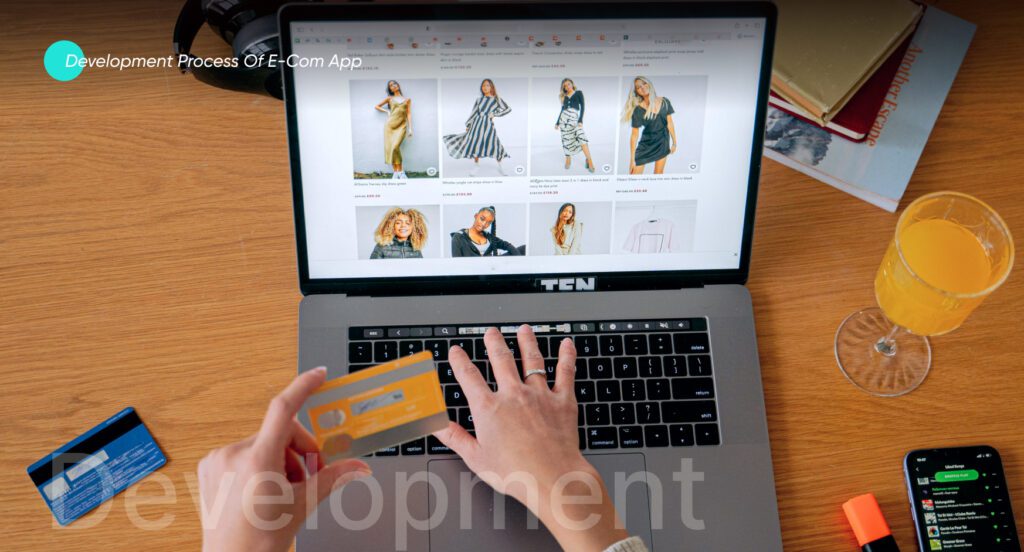 The following is a general overview of the typical steps in developing an e-commerce mobile app.
1. Explain the requirements
This initial step involves understanding the app's objectives, identifying the target audience, and defining the features essential for the app to meet the user's needs.
2. Design and wireframing
In this step, the team creates a detailed design and wireframes of the app, including the layout, user interface, and user experience. It ensures that the app is easy to use and navigate.
3. Development
This step entails coding the app using the appropriate programming languages and frameworks. The development team should ensure that the app is optimized for performance and is compatible with various devices and platforms.
4. Testing
After the app development, the app is tested to eliminate bugs and fix issues. It involves running various tests such as functional testing, performance testing, and security testing.
5. Launch
Once the testing phase concludes, it is time to launch it on the app store. It involves creating a listing for the app, including adding relevant information such as the app's name, description, and screenshots.
6. Maintenance and updates
After the app is launched, it is imperative to monitor it for any issues and release updates to fix any identified bugs or issues. Adding new features and functionality to keep the app up-to-date and relevant to users is also essential.
How do we evaluate the cost of e-commerce mobile app development?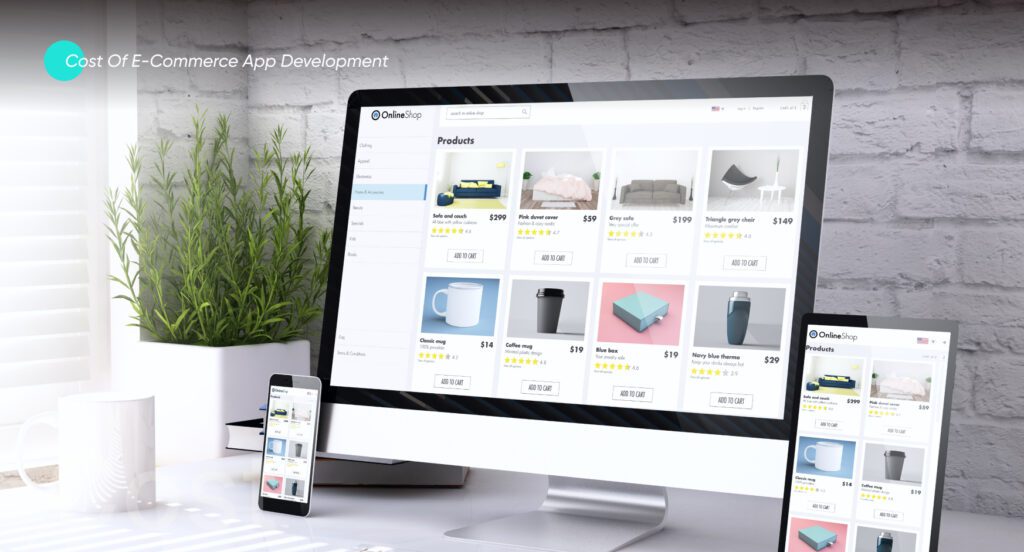 There are various factors involved in the evaluation of e-commerce mobile app development. Therefore, the cost of developing an e-commerce mobile app can fluctuate depending on numerous factors, such as the app's features, complexity, design, development platform, and location of the development team. 
The following is a breakdown of different factors that can determine the cost of developing an e-commerce mobile app:
Features
If an e-commerce app has more features, it will require more time and effort to develop it. Some common features that can be included in an e-commerce app are a product catalog, shopping cart, payment gateway integration, user accounts, social media integration, and push notifications.
Design
The design of an e-commerce app is crucial for providing a good user experience. A good design can include an intuitive user interface, easy navigation, and visually attractive graphics. The design can influence the development cost as more complex designs may require more time and effort.
Development platform
The cost of developing an e-commerce app can also depend on the development platform used. There are two main types of platforms: native and hybrid. Native platforms require more time and effort to develop but offer better performance and user experience. Hybrid platforms are faster and less expensive to create but may provide a different performance and user experience.
Development team
The cost of developing an e-commerce app can also depend on the location of the development team. Developers in different regions charge different hourly rates. For example, developers in North America and Europe generally charge more than developers in Asia or South America.
Based on the above factors, developing an e-commerce mobile app can range from $5,000 to $150,000. A basic e-commerce app with limited features can cost around $5,000 to $20,000. A more advanced e-commerce app with complex features can cost anywhere from $50,000 to $200,000.
FAQs
How to create a mobile e-commerce app?
Creating a mobile e-commerce app involves defining the scope of your app, researching your competition, choosing a platform, selecting a development approach, designing the user interface, developing and testing the app, and launching it on the app store.
What are the benefits of e-commerce to customers?
E-commerce offers several benefits to customers, including convenience, accessibility, and a wide range of products. Customers can shop anytime, anywhere, without being limited by store hours or location, which saves time and effort.
How can I promote my mobile e-commerce app?
You can promote your mobile e-commerce app through numerous channels, such as social media, email marketing, advertising campaigns, influencer marketing, and app store optimization. Creating a solid marketing strategy to reach your target audience and drive app downloads is essential.
How long does it take to develop an e-commerce mobile app?
The development time for an e-commerce mobile app varies depending on the features, complexity, and platform. Typically, it can take 3 to 6 months or more to develop an e-commerce mobile app.
Which platform is better for e-commerce mobile app development?
Both Android and iOS are equally suitable for e-commerce mobile app development. The choice of platform depends on the target audience and business goals. Developing an app for both platforms is advisable to reach a wider audience.
We can help you develop a scalable e-commerce mobile app. Talk to us now!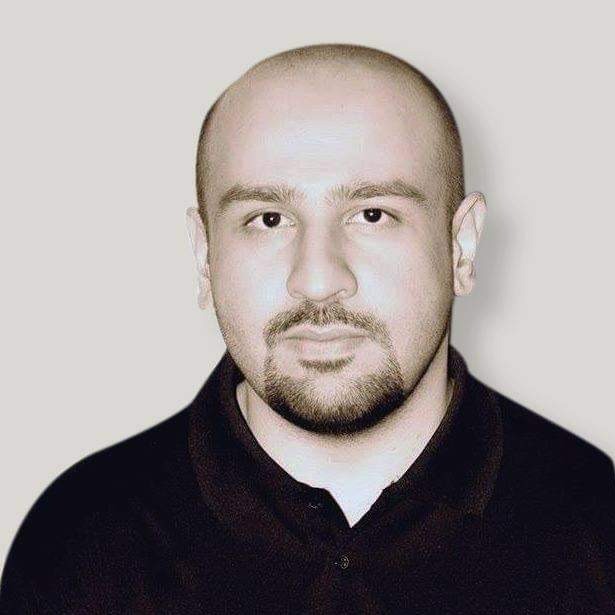 Gohar is a seasoned IT writer specializing in leading technologies. He holds a Bachelor's degree from the University of London, with professional experience spanning over five years in the IT sector. His expertise involves a keen focus on mobile applications, web apps, blockchain, content management systems, e-commerce, and fintech. Beyond the professional field, Gohar is an avid reader and reads extensively about emerging and innovative technologies.